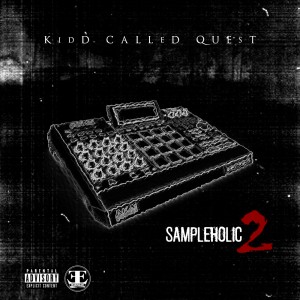 Looking for new artists with classic hip-hop vibes? If so, then Kidd Called Quest just dropped the perfect mixtape.
Fueled with golden age sounds while coated with modern innoventions, Sampleholic 2 provides eighteen tracks, both throwbacks and newer ones, that offer the best of both worlds; Of course, mostly drifting towards a retrospective ambiance which the Rochester-based producer strives ever so persistently to provide—from the booming beats of "Gangstas And Hustlers" to the minimal "Five In The Mornin" which also features Scotty ATL.
The collective also rallies a multitude of artists ranging from both rising artists and veteran figures, such as Rapper Big Pooh, Averx, Souletric, Scotty ATL, Craig G, Pumpkinhead, and G. Fisher to name a few, with the latter artist showcasing a contemporary take on the classic "I didn't choose this life, this live chose me" mantra, narrating heartfelt stories from the timeless street life schematics.
Sampleholic 2 marks the producer's fifth installment atop his four previous compilation mixes, not to mention numerous instrumental collectives produced entirely by the rising producer. Renowned for his undaunted determination to uphold authentic hip-hop music and culture, Kidd Called Quest sets himself apart as a modern-day time traveler, brandishing banners of golden age bygones amidst an almost estranged generation.
Check out Kidd Called Quest's latest project, Sampleholic 2.
By Jods Arboleda for RAPStation.com