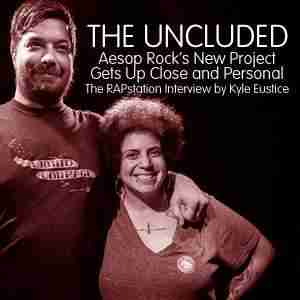 As an emcee, Aesop Rock has consistently pushed the boundaries of what is considered "traditional hip-hop." His wordy rhymes are often unintelligible and each bar is so cryptic, it's nearly impossible to figure out exactly what he's talking about. Nonetheless, he's produced incredible bodies of work beginning with 1997's
Music For Earthworms
and culminating with 2012's
Skelethon
(Rhymesayers Entertainment). In between, he dropped 2001's
Labor Days
and 2007's
None Shall Pass
. Both cemented Aesop Rock's rap career securely in place, allowing him to be even more experimental with his style. So it's no surprise the San Francisco-transplant teamed up with indie-folk darling Kimya Dawson of The Moldy Peaches for a new project. Simply called The Uncluded, the unlikely duo just released its debut album,
Hokey Fright
(Rhymesayers) and is presently wrapping up a giant tour in support of the record. As the tour winds down, Aesop and Kimya found a few quiet moments to talk to RAPstation about mental illness, the future and, yes, masturbation.
So I was the girl yelling at you from the Starbucks drive-thru in Omaha saying "I work for Thrasher!" Thanks for that moment. I was pretty happy I chose that Starbucks that morning/afternoon. This is probably the most frequently asked question for you guys, but HOW did you guys meet and how was The Uncluded born?
Aesop Rock: I'm a long time Dawson fan. We have some friends in common and eventually crossed paths after some emailing. At the time, she was working on her most recent solo LP
Thunder Thighs
, and recording close to where I live.  I was able to get involved with that project, and likewise she sang on my last solo record.  Once that was done we just kinda kept writing songs and thought there was something nice about them - and that we could maybe turn it into a whole album. Kimya Dawson: Yeah, I asked him if he could make a beat for one of my solo songs and then in the studio we figured he could add vocals, too. And then it was like, 'Hmmmm…maybe you could do something for this song, too.' Next thing we knew he had added to 6 of the songs on my record. My daughter and I both had little cameos on the Hail Mary Mallon record he made with Rob Sonic and DJ Big Wiz, and I did stuff on 2 of the songs on his last solo album
Skelethon
. There was a pretty clear musical connection that I don't think we even put too much thought into. We just kept making songs together.
Kimya, I have been listening to you since The Moldy Peaches days. You've always injected your music with humor ("These Burgers" always made me laugh). But on the other side of the equation your lyrics are also very personal. How do you find this balance when songwriting?
Kimya Dawson: The (Moldy Peaches) song "These Burgers" is a pretty tragic song about depression and social anxiety. Feeling like a damaged outsider and being put on medication. But it comes across as being very funny. I think comedy and tragedy have always just been interwoven somehow in my mind. I don't know if that's a coping mechanism. Or if it is just the result of growing up with very real and very silly parents, listening to and watching tons of Richard Pryor's work. That man was the ultimate master of using comedy to work though intense pain. I have always loved him and his stuff for that. 
Aesop - I ALMOST got you to agree to meet with me in person for an interview for Thrasher the last time you were at the Omaha Waiting Room with Rob Sonic. Alas, it never happened. I was just curious, why you are partial to email interviews?
Aesop Rock: I just get nervous around people. I mumble my words and the interviews often end up as a paraphrased version of my mess, so I just prefer to be able to be comfortable, sit back, and take my time with the questions. It helps me give a thought out and concise answer without any of my anxieties about being around people get in the way. 
Have you encountered any negative reactions to your musical partnership?
Aesop Rock: There are some that aren't into it but for the most part the naysayers have simply passed on the project, and that's how it should be.  If it's not for you, that's no problem.  Kimya Dawson: I think when you make music you just have to know that some people are going to get it and some people aren't going to be into it. With anything you make. There are some people who don't like it but there are also kids who tell us it has helped them immensely. That's just how it goes. You have to make music for yourself and for the people who do get it, and not worry about the people who don't.
Kimya - It's funny you mentioned Weird Al Yankovic in your Rhymesayers interview because I just interviewed him today. I loved what you had to say about not sitting at home and dwelling on the negative. Is that kind of what music does for you, too? Helps you process your feelings and rise above?
Kimya Dawson: The first Moldy Peaches show was the weekend after I got out of a 30-Day inpatient dual diagnosis treatment facility for addiction and mental illness. I started playing guitar and writing solo songs about a year later. Music has always been a way that I could make sense of things in life that I could never make sense of, or deal with, before. It helps me immensely. I would keep writing songs even if no one else could ever hear them. 
You both must be having a blast on tour together. What kind of crazy stories can you share with me?
Kimya Dawson: We're friends and we have our pal James Lynch on tour playing with us and the amazing Hamell On Trial opening for us. It's fun times for sure but we aren't super crazy! Hamell tells us a joke every day [laughs]. We listen to a lot of podcasts. My daughter is with us for this leg so sometimes one of us has to be the voice of Barbie or the voice of the chimera. We've also been known to explore a swamp or two.
At your show, you did a song about masturbation. As a catholic school survivor, I'm super shy to talk about certain stuff, but here you are putting it on blast in front of an audience. You are able to talk about things that may be uncomfortable for some people in a really funny way. What made you want to write that song?
Aesop Rock: [Laughs] It's a funny time, puberty, seeing nudie pics for the first time. It may be embarrassing on some level, but it's really funny on another level, and it's also something most people can identify with; feeling awkward and learning about sex.  Kimya wrote her awesome verse on that and I just said 'ok here we go!' I still get weird saying 'vagina' on stage in a song over an acoustic guitar.  Kimya Dawson: I was
REALLY
shy about that stuff growing up and a super late bloomer. I get it now that that was fine, but back then, like in high school, when I couldn't even tell my best friend who I had a crush on, and I didn't kiss anyone until college because I was so freaked out, I felt like a mutant. I would, literally, go to parties and spend the whole time up in a tree looking down trying to make sense of how naturally everyone seemed to hook up. I went to every school dance and observed from the top of the bleachers. I tweeted about that once and was AMAZED by how many people were like "HOLY SHIT! ME TOO!" I wish I had known back then that I wasn't the only one. [Laughs] So I figured I'd write a song about it. Socially awkward masturbator solidarity! Woot!
What's next for The Uncluded?
Aesop Rock: Finish up this tour and then probably move on to some song writing again.  I feel confident that there will be another Uncluded project. I don't know when, but I think it will happen.  Kimya Dawson: Being friends and making songs. I have done one-time collaborations, before but this is different. I need this. By Kyle Eustice for RAPstation.com