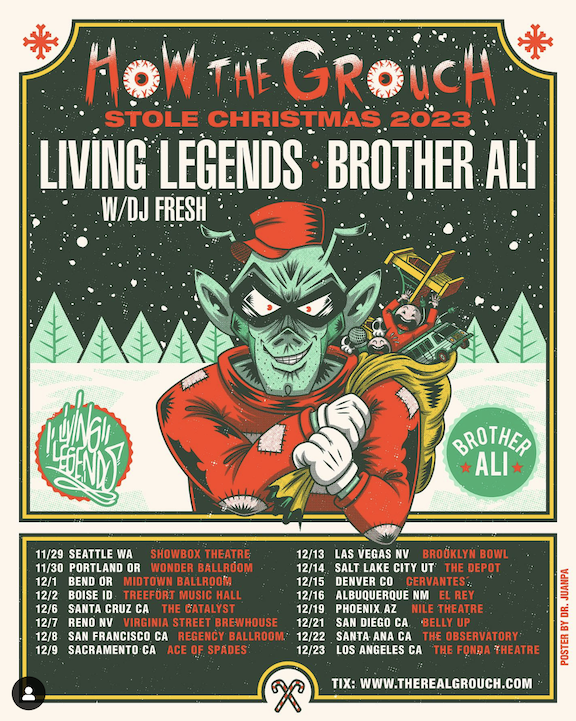 Living Legends co-founder The Grouch has announced the details for his annual Grouch Stole Xmas Tour, which kicks off on November 29 in Seattle. As with years in the past, Grouch is bringing along some of his closest homies, including Eligh and the rest of the Living Legends. Additional support will be provided by Brother Ali and, as always, DJ Fresh. The North American run is comprised of 16 dates and wraps up on December 23 in Los Angeles at The Fonda Theater. Tickets are available here. 
Living Legends are one of Hip Hop's longest-running collectives. Founded in the late '90s, the West Coast group — comprised of The Grouch, Luckyiam, Eligh, Sunspot Jonz, Bicaso, Aesop, Scarub and sometimes MURS — grew out of the Mystik Journeymen and evolved into an indie powerhouse. In 2008, L.A. Weekly called them "one of the biggest success stories in the indie-rap movement" after they sold more than 300,000 albums on their own.
After five studio albums, culminating with 2008's The Gathering, Living Legends branched off and started doing their own thing. MURS signed with Strange Music and focused on his solo career, while Eligh and The Grouch did several projects under the G&E moniker. MURS and The Grouch later connected for Thees Handz. In June 2022, the group reconvened for a new single called "LLXL" featuring Eli-Mac (although MURS opted not to participate). Living Legends MC Aesop recently confirmed another Living Legends album is done. No word on the release date.