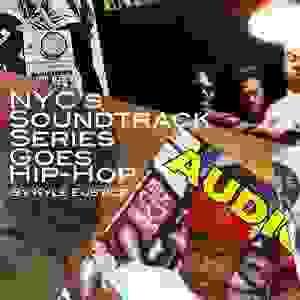 On November 21 at 8 p.m.,
The Hip-Hop Soundtrack Series
goes down at (le) poisson rouge in New York City, which is located on 158 Bleeker St. The concept behind the event is to tell stories about the songs that have impacted the lives of various people in the music industry. Host Dana Rossi is actually the founder and co-creator of the Soundtrack Series. Armed with her incredibly vivacious personality and natural charisma, she concocted the idea over three years ago in spring 2009. At first, she was unsure of how it would be received. "When I first got this idea, I thought, 'what if I'm one of a really small group of people that just sort of connects points in their life to music?' I'm not saying I'd be the only one, but I was worried that only music nerds do this," Rossi says. "Then a couple weeks later, Michael Jackson died and Facebook exploded with every day memories of their connections to his music. So I thought, 'yeah ok, everybody does this.'" Confident her idea would work, Rossi forged ahead and today finds herself listed as one of the Top 10 Podcasts in New York City (according to
Time Out New York
). Dan Charnas, who is the author of
The Big Payback: The History of the Business of Hip-Hop
and veteran of the hip-hop music business, aided Rossi in getting the panel together for this special edition of the
Soundtrack Series
. He had been a guest on her show before and according to Rossi, told one of her favorite stories about working for Rick Rubin. Boom! As soon as they put their heads together, the
Hip-Hop Soundtrack Series
was born. "The hip-hop series is going to be a little different," she explains. "It's going to be people in the hip-hop industry telling stories about their time in hip-hop and working in hip-hop." MC Serch is one-half of the pioneering hip-hop duo 3rd Bass, and went on host the VH1 series
The (White) Rapper Show
, and
Miss Rap Supreme
. He's been a radio personality on stations from Detroit to Orlando, and is about to debut his new daytime syndicated talk show,
Serch
, distributed by CBS-TV. He got involved in the beginning. "Dan Charnas is an old friend and asked me to be a part of it," Serch says. "I loved to not only tell stories, but to hear them. Plus, it is a bunch of people that I have known for decades all getting together to have a great night talking about our experiences from back in the day." Other special guests include:
Sway
Sway is an executive producer and reporter with MTV news, and is the exemplar of televised hip-hop journalism. He's sat with everyone from Diddy to Barack Obama, from Ben Affleck and J.Lo. to Kanye West. Sway made hip-hop history in the 1990s as the co-host of the very first rap show on pop radio, the nationally syndicated radio show "The Wake Up Show," with his longtime partner King Tech.
Bill Stephney
Bill Stephney was the first president of the first real hip-hop label, Def Jam Recordings. At Def Jam, Stephney was best known for signing and producing the classic political hip-hop crew, Public Enemy, and later introduced comedian Paul Mooney to a new generation of fans with his company Stepsun Music Entertainment. Stephney has been music supervisor or consultant for films like "Do The RIght Thing," "Boomerang," "Clockers," "Shaft," "Down To Earth," "CB4," "Ladies' Man," and "BeBe's Kids."
Adam Dubin
Adam Dubin co-directed Beastie Boys music videos "(You Gotta) Fight For Your Right (to Party!)" and "No Sleep Till Brooklyn." Dubin is a graduate of the NYU film program, and was the college roommate of record producer and Def Jam founder Rick Rubin.
Faith Newman
Complex.com named faith Newman one of the 25 Best A&R's in Hip-Hop History. She is responsible for signing Nas and Jamiroquai to Columbia Records, and now works as Senior Vice President of Creative at Reservoir Media Management, Inc.
Monica Lynch
Monica Lynch is the former president of Tommy Boy Records. She is currently a DJ on WFMU.
Eric & Jeff Rosenthal
Eric & Jeff Rosenthal, known together for their comedy franchise "It's the Real", are masters of hip-hop humor. They've been profiled in The New York Times, hosted shows for MTV.com, and their work has appeared in Rolling Stone and Complex.com.
Dante Ross
Dante Ross is a legendary figure in the hip-hop industry, responsible for either producing, handling, discovering or signing the following acts: De La Soul, Queen Latifah, Digital Underground, Leaders of the New School and Busta Rhymes, Ol' Dirty Bastard, Brand Nubian, 3rd Bass, Everlast and many more.
Milk Dee
Milk Dee is the MC behind the classic hip-hop track, "Top Billin'," sampled by everyone from Mary J. Blige to 50 Cent.
Combat Jack
Combat Jack, a veteran of the hip-hop business as a lawyer, executive and author, is the host of the renowned and respected Combat Jack Radio Show and Combat Jack TV on Complex.com. He's also been managing editor of The Source magazine, represented clients from Jay-Z and Dame Dash to Nice & Smooth, and co-wrote the first book on hip-hop's jewelry obsession, "Bling." Please visit www.soundtrackseries.com for more information.