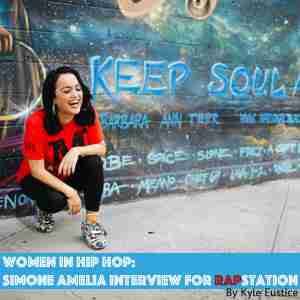 As an Australian-born woman living in New York City, Simone Amelia makes the transition to life in the big city look easy. With the same swagger as other leading ladies in Hip Hop, Amelia has seemingly mastered her new role as Content Director at
The Source Magazine
quickly, coupled with the same tenacity that got her there in the first place.  Affectionally referred to as "Boss Lady," Amelia broke into the Hip Hop industry as founding editor of Australia's first hugely successful commercial urban magazine,
Urban Hitz
, at the ripe age of 23. United States Hip Hop fashion distributors DrJays eventually took notice of the determined young journalist and soon she went from editing her magazine in Sydney to spearheading the operation as Online Content Manager of DrJays.com in Union Square.  Fast-forward to 2016 and Amelia's strategic moves have resulted in her own Reebok shoe, a (former) radio co-host position alongside DJ Green Lantern on Sirius Radio's Hip Hop Nation and consistent contact with some of the industry's biggest names. While
The Source
currently makes up the bulk of her schedule, she still manages to make time to speak at various schools, something extremely important to her. In the past, she was also involved with a grassroots organization called Youth At Risk, where she mentored at-risk teenage girls.  Amelia took some time out of her crazy schedule to talk about her favorite Hip Hop artists, the first album she bought as a kid and if she's any closer to landing her dream interview with Jay Z.
RAPstation (Kyle Eustice): What was it like growing up in Australia? How did you first get your hands on hip-hop?
Simone Amelia: Australia is incredibly beautiful and I'm fully aware how blessed I am to be born and raised there, but Australia also deals with issues of systemic racism, xenophobia and inequality like most countries. Thankfully, I grew up in a multicultural setting in West Sydney and Hip Hop was a lifeline for us. The rap scene in Australia in the '90s, when I was a teenager, was extremely small, but vibrant: what we lacked in size, we made up with diehard passion. Because these were pre-Internet days, we'd search high and low to find Hip Hop and R&B releases, but thanks to community radio stations, a handful of record stores, street magazines and touring artists from the US, the culture maintained a strong presence.
Do you remember your first album?
Of course. When I was nine-years-old,
Janet Jackson's Rhythm Nation 1814
came out and I asked my mum to buy it for me on cassette tape. I played that album like it was the only set of music ever recorded. I truly believe the themes Janet explored on
Rhythm Nation
- unity, education, fighting injustice, even love - shaped my way of thinking forever. I'm grateful music like that existed at such an impressionable time in my life.
What brought you from Australia to the States?
I've wanted to live in New York City since I was a child. First, it's the birthplace of Hip Hop. Second, it signifies a place where people strive to be the best at what they do, chase their dreams and live their passion. I was presented with an opportunity to work for a great company, online retailer DrJays.com, based in Union Square and I began creating content and lifestyle initiatives for them in January 2007. I've been here almost 10 years now and haven't looked back.
How did you get your start in the industry?
I interned at magazines when I was in the tenth and eleventh grade, or Year 10 and 11, as they're called in Australia, When I was in the twelfth grade, I paid a visit to the university I would end up attending the following year and met a woman there who was the editor of a music magazine called
Juice
. I asked if she needed an editorial assistant, and ended up working with her through my college years. When I graduated, I had my heart set on creating a monthly, on-sale Hip Hop and R&B music publication. People told me I was crazy, that the culture wasn't big enough in Australia to sustain something like that. I spent a full six months putting the business proposal together, pitched it to a publisher and somehow made it happen. I literally went from editorial assistant to editor, truly testament to the power of self-belief. It was called
Urban Hitz
and I ran it for three years until I was offered the position with DrJays.com.
Sexual harassment/the way women are treated in the industry is a big topic as of late. But it's always been a problem. How do you combat inappropriate or uncomfortable encounters?
There have honestly, and maybe luckily, been very few instances where I feel I've been disrespected in this industry. If I'm ever approached in an inappropriate or uncomfortable encounter, I make them feel even
more
uncomfortable. I don't play that.
As women, how can we help get the message out that any type of harassment towards women is not ok?
We should speak up as soon as we see it or experience it. We must support each other. We have to engage dialogue with men on the subject and if they don't understand where and how they've gone wrong, we show them. An important goal should also be us learning to take responsibility where necessary and appropriate, too.
What does it mean to you on a personal level to be working for The Source?
It's a dream come true. I'm honored and I'm taking the role seriously. There's a legacy to uphold, absolutely, but there's also an incredible future to look forward to. I started my magazine in Australia based on my love for brands like
The Source
, so it's a full circle moment in my career. We still have the print magazine coming out bi-monthly, our digital numbers are strong and growing, and our publisher [famed attorney Londell McMillan] is a fearless leader with a holistic, almost spiritual mission for the brand. Our ethos goes deeper than most media and marketing companies. We're in a great place right now.
You said in an interview all women need to have a mentor. Who are some of your mentors?
I take mentoring seriously because, aside from Lisa Anthony [the editor she worked under at
Juice
], I've never had a steady one myself. I would often reach out to women in the industry and would never get a reply back. One woman that did take time with me was Kim Osorio, the first female editor-in-chief of
The Source
. I'd message her on MySpace and we'd write back and forth, then we met up when I moved to New York. We're now great acquaintances and I appreciate her. There are way too many women who will get to a position of power and then won't put other girls in place to win. We have to change that.
Who are some of your favorite artists?
I Stan for 2Pac. I've loved him since I was a young teenager, before he was taken from us. I'm also a diehard Jay Z fan. I adore Stevie Wonder. Jodeci are untouchable to me. Those are just a few.
How did the "Boss Lady" nickname come to be?
I started using it when I founded
Urban Hitz
in 2003. It's a term used a lot nowadays and I think that's great because the message is clear: women can and should be powerful.
You've already accomplished so much. What's next for you?
Thank you. I feel like I've hardly scratched the surface when it comes to my career, so I'm looking forward to a whole lot. I want to keep learning, teaching and representing for voices that aren't being heard. Recognition has never meant as much to me as achievement, and leading by example is very important to me. We have so many powerful things planned with The NorthStar Group [
The Source's
parent company] and I'm truly in a very blessed space.
Are you any closer to getting that Jay Z interview?
Ha! Let's hope so, otherwise the often-updated questions I've had ready for him for over a decade now will sadly go to waste.