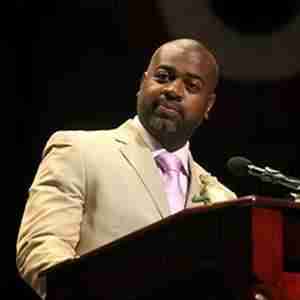 On July 7th, Newark mayor Ras Baraka, son of legendary activist Amiri Baraka spoke to Huffington Post Live about the legacy left behind by his father who passed away last year at the age of 79. The mayor remembered his father's work, that championed the black experience and was very divisive amongst critics.
"Some of the problems we have can begin being addressed by art,"
he said.
"People don't necessarily believe or can't see that. I think you do better dropping a thousand artists into a community than a thousand cops. So I think my father's impact, even on my personal life, has been great."
Amiri Baraka is best known for being a poet and playwright, as well as an integral part of the Black Arts Movement of the 1960's and 1970's. Baraka's career spanned nearly fifty years, and his themes range from black liberation to white racism. It's Amiri Baraka and his peers who helped pave the way for the major black artists we see in music, writing, film, and dance today. In today's current art scene there's the rise of newer black artists like Misty Copeland, the first black principal dancer in the American Ballet Theater; rappers like Kendrick Lamar, Nas, and Wale who use their medium to speak about the state of our country; and directors like Ava DuVernay who are rising to popularity and using their voices and influence to make a difference in the black community. There's still groups like Public Enemy, who are releasing a new album on July 15th, that have stood the test of time to still be a major voice and influence in disenfranchised communities and for minority groups. Without the activists like Angela Davis, Malcolm X, Louis Farrakhan, Martin Luther King Jr., and Amiri Baraka, there wouldn't have been a chance for influential blacks to take a stand and speak for the generations that will follow them. By Devon Pyne for RAPstation.com