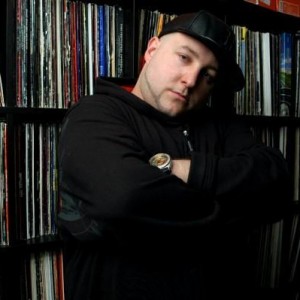 Patrick Baril, better known as Statik Selektah, is on a roll. The 35-year-old DJ/producer recently signed a management deal with JAY-Z's label, Roc Nation, and is currently working on albums with Nas and 2 Chainz. Before those drop, he's got a solo record waiting in the wings as well. Titled 8, the album serves as the follow-up to 2015's Lucky 7, which was supposed to be his last album, but like a moth to a flame, he couldn't work in the studio for too long before he was itching to craft his own project. He was also inspired by super producer DJ Khaled's seemingly endless musical output. 
Selektah, who is the host of the Shade 45 radio show, Showoff Radio, is beyond busy, but somehow manages to juggle it all, which includes being a father to his young daughter. 
8's first single, "Man of the Hour," is expected to arrive on July 7, but before then, he was able to carve out some time to talk about his deal with Roc Nation, what makes DJ Premier his biggest influence and JAY-Z's forthcoming album, 4:44. 
RAPstation (Kyle Eustice): How are you doing despite the horrible news about Prodigy? 

Definitely. I won't keep you too long. How did you end up signing with Roc Nation? 
Basically, I've been looking for a bigger team for management for a long time, and I had seen Christy who works over there with The LOX and she said my name came up in a couple conversations up there. I've been working with The Lox a lot lately, so I went up there and had a couple meetings. They felt it was a good place and I thought it was perfect. I had signed it awhile before we announced it, but we decided to announce it around the album. 
So the timing made more sense. Tell me a little bit about this collaboration with 2 Chainz. 
The funny thing is I feel like I shouldn't have even mentioned that because I feel like it took the shine away from the fact I announced my new album, which is 8. It did that all over the internet — it wasn't just one site that did that, but I wish I waited to talk about the 2 Chainz thing. 
I'll get it straight. Don't worry. 
I am definitely trying to promote that album right now. 
What goes into your decision when deciding to work with someone? 
I like to say I work with nothing but friends. I don't really work with strangers, people I don't know. Even if it's someone I don't know like that, the vibe's gotta be right. It's just organic. 
You want to make sure you already a fan of their work? 
If I meet someone and their vibes off, I'm not concerned about working with them. There's people I'm a fan of, but we never really clicked, and it was all good. I'm still a fan and I have no desire to work with them. It's just like when it comes to working together we gotta stay on the same wavelengths. 
So is 8 another chapter? 
Absolutely, and it marks the 10 year anniversary of my first album. It's like a new beginning. It's cool. 
You're still young. Sounds like you have that DJ Khaled work ethic. 
I am still on tour every week, I'm still doing radio, I'm still in the studio. I have so many records coming out. I've been staying busy. I've said this in like a million interviews, but DJ Premier my biggest influence. I look at his body of work and I'm on a nice track right now, but I want to leave that kind of legacy. 
I was hanging out with MC Eiht the other day. They have a new collaborative album, Which Way Iz West. 
I played it a few times on my shows. 
I love radio. What do you love about radio? 
People always ask me if I like DJing or producing more, but the best thing is DJing while I'm playing a song I produced, so doing my radio show is perfect for that. The whole reason I started DJIng is i heard Premier playing songs he produced in 1995 on Hot 97 and I was like, 'Yo this dude is scratching the records he just produced that ain't even out yet.' I was like, 'This is what I want to do' and I literally followed that path.
Are you excited about JAY-Z's 13th studio record? 
It's funny. I was going to drop my single on June 30. The name of the song is "Man of the Hour," so I'd be a real asshole to drop it the day JAY-Z drops. 
Did you know it was coming before we did? 
Honestly, when people starting warning about it, I was like, 'Nah it ain't a Jay Z album.' I had some conversations with certain people that work with him and it sounded like the album was far from done, but I guess it is. 
They did a good job with the marketing. 
They made it official. I'm excited, especially since they announced No I.D. produced the whole album. 
What's your favorite song on 8 and why? 
The first single that comes out is July 7 because of JAY-Z dropping on the 30th. It's dope though because you got DJ Khaled dropping this Friday, the next Friday is JAY-Z then my single comes out the next Friday, so that's three weeks in a row of exciting things … at least for me. The record I've got is really big.