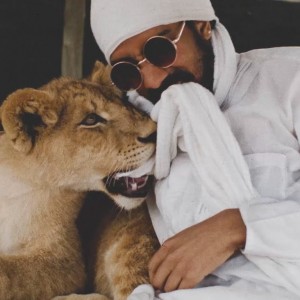 Although relatively unknown, MC Siimba Liives Long managed to gain the attention of Vice/Noisey, who marveled as his safari-esque aesthetic. The fact of the matter is, Siimba is making incredible Hip Hop music and tapping into his experiences living in New York, New Jersey and Ethiopia to stand apart from the sea of rappers out there. Known for frequently posing with majestic creatures of the jungle, including lions, Siimba often uses them for props in his videos and is clearly influenced by his time in Africa. As he prepares to release his forthcoming project, Zemenay's Gemiinii, the Brooklyn-based artist had a few brief moments to talk about killing the lames, learning to rap in Ethiopia and how he uses his music as therapy. 
RAPstation (Kyle Eustice): Where did you come up with your name? 
Siimba Liives Long: Siimba was a nickname that stuck, my last name is Long...throw the Liives in there and there ya go.
Where are you from and how did your environment shape your musical style?
Depends what you mean by "from." I've lived New York, New Jersey and Ethiopia. I think traveling a lot growing up has given me perspective and an open mind, which I apply to my creative process. I'm also very proud of being African and I think that shines through. 
When did you decided you wanted to rap and why?
I started rapping in 7th grade in Ethiopia. I wrote a rap and said it to some of my friends. They liked it and things kind of just progressed from there. I now use it as a tool to kill the lames — it's my duty.
Thankfully your music is atypical of the mainstream mumble rap that is so popular with "da kids." Who influenced you growing up?
I actually love what lots of people call mumble rap. I think it's a cool form of sonic expression, and that's talent in itself. People are usually surprised when I say that, or when I say Lil B is one of my favorite rappers, but lots of these guys are brilliant. With that being said, I like a lot of stuff. Growing up, I listened to a lot of 50 Cent, Nas, Jay Z, and 2Pac. As I got older, I got more into Outkast and The Fugees were lit. I'm influenced by everything I listen to though. I think we all are. 
How do you use music as therapy?
I don't talk about my problems. I suppress lots of emotions. Music allows me to release those things in a healthier way that's not destructive to myself or others. This is very important.  
I feel like you're pretty low key. Is that on purpose?
It's probably because I'm shy. Also, the lames are out here and we been killing them everyday, so I gotta watch my back and keep them on their toes. They can't know my every move.
What are you working on now? 
I'm currently on tour and about to put out this project Zemenay's Gemiinii. Then plan to just put out a lot of new music this year. [I want to] kill even more lames and live my life.
What does the music you make mean to you? 
It's my life — literally, so I guess it means a lot. I just want to make the best music possible and make some sort of positive impact on this planet before I check out.