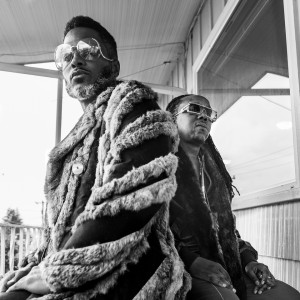 There's a sense Tendai "Baba" Maraire takes music extremely seriously. As a seasoned musician who routinely tours with revered hip-hop trio Digable Planets, is the leader of the Chimurenga Renaissance project and makes up one-half of Shabazz Palaces, Baba's intense focus as his hands hit the drums is captivating. Along with Ishmael "Butterfly" Butler, his counterpart in Shabazz Palaces and co-founding MC of Digable Planets, Baba is preparing to release two new Shabazz albums on the same day — Quazarz: Born On A Gangster Star and Quazarz Vs. The Jealous Machines. Both albums are available on July 14 via Sub Pop Records. Until those drop, two lead singles — "Shine A Light" and "30 Clip Extension" — are currently available for stream on SoundCloud. Baba took some time to shed some light on the new projects, working with Butterly and how they ended up on the iconic Sub Pop label. 
RAPstation (Kyle Eustice): I was blown away by your percussion skills at the Digable Planets show. How did you initially meet Butterfly? 
I was on my way to a reggae club and I ran into him. I asked him if he wanted to do some music and he was like, 'I don't do music.' And then our girls at the time were friends, but I didn't know it. His girl was like, 'Oh no you gotta meet. If you do, it will be dope. It could be a life changing experience for people.' We hooked up after that. 
Why did he tell you he didn't do music? 
I think it was the place he was in. I've been in the place where you just don't feel like doing it, you know? You don't feel like being bothered by people. Music is like being in a relationship. If you're not successful, your feelings are hurt, so you feel like she turned you down. He was in and out of it, and he was going through some personal stuff he had to handled. I get it because I went through it five years later as far as the personal stuff goes. 
What went into the decision to release two albums at the same time? 
It's just what it is now — you can do it. I am sure a lot more people would do things differently. The game's changed. We will do things differently. It's just the fact you can and there was enough music to do it. 
"Shine A Light" resonates with me. What kind of mood are you going for with this one? 
I don't look at it like mood. Neither one of us do. You have a day, but music still has a job-type of feel to it, so you still gotta go to work, you know what I'm saying? You try not to let your emotions — negative emotions — draw into the music obviously unless it's to serve a purpose or bring it out. I don't think it was anything about going into a mood. I think that was just a place we were at the time when everything was being created and when he was writing. 
How do you get ready for work? 
Oh man. I pretty much never stop working. I don't care if I'm at a club, I'm listening to what's relevant and what's new. I just went to a spot last night and listened to some karaoke. I had a conversation with this girl and found out she was part of a festival, so I helped her out finding groups for that. From there, I went to see Stacia DJ from THEESatisfaction and learned new songs, and found out Drake was on a song with Fetty Wap, like 'What the hell is that?' I never stop working. 
Sounds like me [laughs]. 
Driving with my daughter, I'm like, 'What's this Kanye song with Drake?' Oh it's on the album?' Damn I need to listen to the album again.' That just shows what my work ethic is like every minute, every day just trying to keep up with what's going on. I heard the Drake album when it first came out and I don't remember none of those songs. That's just the way my day and life is. 
I was texting you while biking earlier like, 'Let's handle some business.' Do you keep up on all the current happenings? 
My kids keep me up, especially my daughter. She's hip to what's crackin'.

How old is she? 
[Shouts out to his daughter] 14, right? She's 15. She keeps me up. 
Why is the Quzarz: Born On A Gangster Star described as a "monozygotic" twin? 
Ask Ishmael. That's his department [laughs]. Ask the wise kid. 
Did you just get back from tour? 
We got back last week. 
Your dad was a big player in Zimbabwean music [Note: Baba is the son of mbira master Dumisani Maraire.] When did you realize you wanted to kind of follow down his path? 
I never wanted to be like my dad, you feel what I'm staying? It was never my thing, but I always wanted to do music. I was doing it so young that it would be impossible for me to say, 'This is the moment this happened.' The story goes, I was 18 months old, and my mother and father were teaching a class. I got up and started the drumming pattern they were doing while they were talking and that was it. My mother was like, 'Alright then get on stage.' That's how she does it. It's happened with my own kids, nieces and nephews. My son is the same way. He'll crawl in the house. It's on Instagram right now. My wife caught him going up to the drum and drumming along to a cartoon on TV, just dancing. What's the difference between a drum and a stool to a kid? He just got up and did his thing.
You consider your parents an influence though, right? 
I mean, yeah. My mother was way more of an influence than my father, but I learned what my father did. I know my father was bad, he did his thing. I'd go to concerts, but he wasn't in my life enough for me to be like, 'I want to be like him,' you see what I'm saying? That part of it wasn't there, so I didn't grow up with the 'I wanna be like somebody.' I grew up like if Prince can practice his thing, then I can practice mine [laughs]. If he can be this, I can do that. 
You took cues from artists like that? 
Everyone, well, anyone good I should say. 
How did you end up on Sub Pop? 
Ah man, that was a stroke of luck. I think in hindsight…I learned that there's a guy named Bruce. I didn't know he knew anything about my father or my family. He's the founder of Sub Pop. He wasn't there when we got signed, but I'll say I didn't know he knew anything about my father or he was in the vicinity of my father's shows at that time. I can't say it's even been spoke about. I don't know if they knew. I just started putting two and two together as I was working on a documentary and was like, 'Oh these guys were there.'
They knew all along? 
I think they did if they put two and two together, yeah. I think the original people knew. One of them definitely knew. He told me he knew all along. Rich Jensen, yeah he knew.