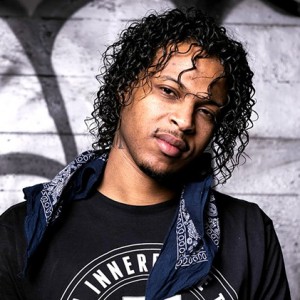 South Central Los Angeles G-Funk rapper G Perico is on a roll. After dropping his most recent project, All Blue, the Jheri curl-sporting artist is focused on continuing his winning streak, which includes The Fader naming him one of L.A.'s "most promising" new voices in rap. In Part I of the RAPstation interview, the 29-year-old opened up about his gang affiliation, how his life has changed and (of course) his hairstyle. In Part II, he talks about growing up, his ultimate goals and how he's been working on his autograph.  
RAPstation (Kyle Eustice): What are you up to today? 
G Perico: Moving around town a little bit, flyin' out the hood right now. 
I gotta go meet somebody in the valley for a podcast at 3 p.m. 'Go, go, go, hurry up (talking to traffic). I'm just trying to beat this train [laughs].
Being from Cali, how big of an influence was skateboarding on you when you grew up? 
Skateboards were everywhere. It was on the scene. I used to skateboard a little bit — more than a little bit — a lot. I never got too handy with the tricks, but I used to skateboard a whole lot up and down the block. We used to take skateboards. I just remember having 'em. I don't remember my very first one 'cuz they were already at the house so I'd just jump on one and fly up the block. It was different from how they look now. 
They were way bigger back then. 
We were taking people's skateboards. We were breaking people's skateboards. 
When did you discover music? 
I think like instantly I already knew, I just came knowing music was the shit 'cuz it was so big at my house. My uncle was a producer and he had a little independent label so like as far back as I remember, I was around music and people just trying to create my granny liked old school music which still sounds new today, so I was pretty much born into it. 
Who did you grow up with? 
My granny was there. My uncle, cousins and shit, you know, there was a lot of people. 
Did you have any older cousins that got you into Hip Hop?
Out of my cousins I grew up with, I was the oldest one. I gotta cousin that is the same age, but I was pretty much like the bigger cousin.
You were schooling everybody? 
We kind of learned it together, but I would act like I already know everything [laughs]. 
I'm an only child, but my cousins we grew up like brothers and sisters in the same house. 
My sister is more into indie rock, but I will catch her listening to Aaliyah or something. Your career is kind of taking off right now. What is your ultimate goal?
Definitely just more states and more cities being familiar with me. I want to go worldwide. I want to cover more ground, and actually be a staple in this rap shit and in this lane that I'm doing. I want it to be more mainstream underground. I just want to solidify my position. 
What are you working on now? 
I'm more on visuals. We are getting a tour together and more music. Ultimately the music is key — it's the center of everything. I'm a musician, so as far as my career is concerned, I am all about the music right now. 
Are you happy with the feedback you're getting? 
Ultimate goal when I release music is I'm not really chasing radio, or all the fluff or blow up. I want people to naturally find it and play my music. If I can just fall into rotation with a regular listener without radio, like wanting to listen to it on their own will, rather than being forced to listen to it, even though I am gonna try my hardest to make sure it's in your face without radio, my goal for a person to be like, 'I gonna play that G Perico,' or 'I woke up to that G Perico' or 'I'm working out to that G Perico' — that's my goal. 
I think you're going to do big things. 
Hell yeah, I appreciate the energy. Like I told you last time you, keep boosting my level of confidence. 
Have you been working on your autograph? 
I got pretty good penmanship as far as L.A. goes. It's just something I've been working on for a few years. 
I met your buddy Marc Woods when I was waiting backstage to interview Ice Cube. 
That's my boy. I performed at Powerhouse [music festival] and wore the L.A. Riots sweater and he made me a Perico jacket. I wore that. I'm proud of that.