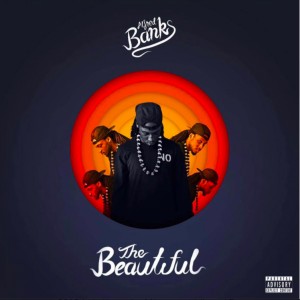 Up and coming New Orleans MC Alfred Banks has endured one of the most difficult periods of his life. After losing his 33-year-old older brother to suicide, he took his pain and turned it into art, namely the brooding new track, "The Funeral Of Orlandas Banks." The emotionally charged song kicks off his forthcoming project, The Beautiful, which addresses his brother's schizophrenia, the emotional response Banks had to his death and the subsequent lessons that come with tragedy. Banks shared a trailer for the album, which recounts the moments after he had to leave his brother's funeral early to perform for a contracted show. 

Chuck D recently took notice of the hard work Banks and his tour mate, Memphis rapper Marco Pavé, have been putting in and sent out a tweet about their #RiverKings2Tour, which kicks off March 19 in New Orleans. In the RAPstation interview, Banks opens up about his brother, growing up in The Big Easy and what he would tell his brother today. The Beautiful drops March 20. 
RAPstation (Kyle Eustice): How did you get into music, more specifically Hip Hop?
Alfred Banks: The first music video I remember seeing was Busta Rhymes' "Gimme Some More." That video was so fun, colorful and funny it made me go, 'What style of music is this?' I grew up more on funk, old school R&B and things like that. Also, watching my older brothers James and Orlandas rap is what really made me see it was plausible. Orlandas, my oldest brother, was about to get signed by No Limit and that was a big deal in the city. From there, I started rhyming.
How did New Orleans shape your musical style? 
NOLA shaped my style in one main way — hustle. The South is known for its independent hustle, so I have a very big pair of shoes to fill. I grind, hustle and work as if a label will never come my way or I will never get any help from anyone. Being self sufficient is the way of life in New Orleans, not just in music, but in everyday life as well.
I know this is going to be a difficult subject. Let's talk about "The Funeral Of Orlanda Banks." Was that the hardest song you've had to write?
"The Funeral" wasn't the hardest song I ever had to write, but it surely the most emotional. It was the most challenging from a writing and recording aspect though. I have a song on my new album The Beautiful called "The Darkest Days" and that was a hard song to capture. I only saw my brother have one episode with his schizophrenia. I got a lot of the info I know from my mother. She told me several stories that give me chills to this day.
I love how the teaser for The Beautiful ties into it. What was that moment like you had to leave the funeral for the show? Was the self-doubt hard to ignore? 
The trailer is the when I'm outside the venue after the drive from the funeral. In real life, I was outside the venue crying, trying to get myself together. The trailer ties more into the story I'm telling in the album. For me, I felt guilty going to rap after my leaving brother's funeral so early. I got my mama's blessing, but I still felt terrible. But I got a talk from my middle brother Jamie, my girlfriend Jessica and my homie Marcel P. Black. Those talks helped me get my head right.
Chuck D recently shared about your tour. What do you think got his attention? How did it make you feel? 
Well, having Chuck D notice anything I'm a part of is incredible. I was completely honored. My tour mate for #RiverKings2Tour is Memphis MC Marco Pave'. He contacted Chuck about the tour and Chuck took it upon himself to post about it. To see two indie artists out here making things happen on their own is what I think he was most proud of. Much love to the Triple OG.
What are your hopes for your music career this year? 
I have some monetary goals set for myself, but I want to expand my name even more. I want to develop a buzz that is undeniable. All of that starts with the release of my new album The Beautiful. I want to open more bigger tours, meet more tastemakers and show that New Orleans has something to say more than Cash Money or No Limit. All the while making sure #UnderDogCentral is a name people know and believe in.
What can people expect from the new album? 
People can expect emotion, detailed stories about my life and some of the most honest writing I've ever done. In the album, I develop Schizophrenia. I don't have it in real life, but I write as if I do using some of the conversations I had with my mom and Orlandas. I'm proud of how it came out and I can't wait to see how people react, and what people think.
Will it be difficult to perform such personal songs? 
No, it wont be. I give such emotion on stage already. I've cried performing "The Funeral" before, but now I've found the mental space where I can perform it and display that emotion without tearing myself up inside.
What does Hip Hop mean to you?
Hip Hop means the world to me. Without it, i wouldn't be here. Simple.
 If you could tell your brother anything, what would it be?  
'Thank you.' I would tell him, 'Thank you.'