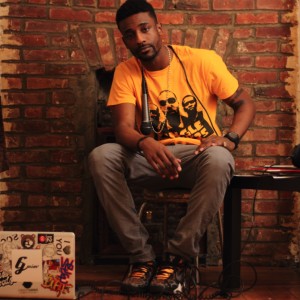 When Kool DJ Red Alert was invited to guest DJ on Kay Slay's Shade 45 show, his son, G MiMs, came along. He wasn't exactly planning on spitting a freestyle, but was aware it was in the realm of possibilities. As fate would have it, the native New Yorker was asked to drop some bars and he killed it. 
While being in the shadow of a Hip Hop luminary can come with its own set of complications, it also provides an opportunity to carry on their legacy, something G MiMs takes seriously. After dropping a video for "Been G" in March, Funkmaster Flex gave him a huge co-sign, saying the song "goes hard in New York." 
As he continues carving his own lane in Hip Hop culture, the Tommy Boy Records signee took some time to talk about what it's like to be Red Alert's son, his upcoming project The Cost Of Living and his responsibility to the culture. 
RAPstation (Kyle Eustice): It looks like you were put on the spot on the Shade 45 show. Did you expect that? 
G MiMs: DJ Kay Slay put me on the spot at his Shade 45 show. He had my pops do an hour set as a guest DJ. I was honored just to be there. The opportunity to rap came to my surprise, but I was aware of the possibility. It was my first time rapping for Kay Slay, face-to-face, so I was excited. Kay Slay provides a big platform for rappers that care about the craft. I enjoyed it.
Do you feel like you're always in your father's shadow?
We could talk for days about my father's shadow. His shadow is so enormous because of his deep root in Hip Hop. It didn't bother me as much as my older brother because I was the younger one. My brother was like Lonzo Ball and I was LaMelo. My older brother Big Rob, he was the one on the radio promos, the KRS-One music videos, and the Jungle Brothers album samples. I sat back a learned from being too young for everything, but I always understood the blessing I had. 
What is it like being "DJ Red Alert's son?' 
I think it changed the way people received me for who I am. Being his son became my identity to people and I didn't always want that. To be honest, my Hip Hop connection stems through Red, but Craig Mack [cousin] is also apart of my family tree, as well as the Jungle Brothers [Mike G, cousin]. So Hip Hop was apart of my life — period. I lived in Red's music library. It was often I encountered someone special to Hip Hop through my pops — Fat Joe, Chris Lighty, Q-Tip, D Nice, Busta Rhymes, Funk Flex, Angie Martinez, Dougie Fresh, Ralph McDaniels, Uncle Luke, Sway Calloway and DJ Kay Slay. I couldn't really avoid the influence. 
When did you realize you wanted to rhyme? 
I've been writing raps since I was in 6th grade. My closest friends — then Preview, Brandon and Mystro — inspired me to rap and we had a group called Wave Brothers. But I preferred to hide the rhymes I wrote from my parents because I didn't want the attention and I didn't want them to see me cursing. I was worried about not meeting the expectations of being DJ Red Alert's son at just 12 or 13 years old. Although, I wrote rhymes, instead of book reports, for the stories I read in school. Still — the fear of the attention, I wasn't ready for.  So, I used to try to stay out of his 'shadow,' if you will, by just playing basketball and leaving Hip Hop to him. 
Were you involved at all? 
I did some acting as an extra in some movies and music videos. However, I used to shy away from those cyphers at lunchtime. Not that I didn't think I could rap, but everyone used to give me their demos and want me to give it to my pops for them. I just didn't want that responsibility. At this time, my pops was on the radio twice a day on Hot 97. I couldn't go to school without hearing, 'Yeeeeeeaaaah' or 'Red Alert.' We couldn't go shopping, we couldn't walk anywhere within a 10 block radius without stopping for a fan or affiliate 10 times. Eventually, I grew out of the fear and I found pride in continuing the legacy. My cousin, we call him 'Kat,' he really took me in and funded my development. He helped me turn from a rapper to a recording artist. That's when things really changed for me. In that time, I came to know a lot of the children of Hip Hop and I've learned that it's a special opportunity to carry a piece of what our parents built. I don't want to piggy back off of my pops — he and I both feel most artist aren't as gifted like I am to rap as well as I do anyway. So I embrace it more. I've found my purpose or the light within his 'shadow.'
What do you have going on now? What are you working on? 
Lately I've been putting out singles like 'Been G' and 'Look At Me Strange' to test the vibe of my fans, but I'm finishing up my project called The Cost Of Living. (#DontForgetTheDollarSign.) I'm excited about it. I've been in the studio with producers like the HeatMakerz, BlackTheBeast, Hesamii and ill Wayno. I got some collabs with Fred The Godson, Jaquae, Jay Pres and LBS [Pounds]. I'm waiting for about two more features that I think everyone will enjoy. 
What do you think your responsibility is to the culture? 
I think my responsibility to the culture is to uplift it. To gain from it. To give back to it. To share it with as many people as I can. I desire to be a gate keeper in the culture, as well as a timeless artist. Hip Hop is like the gospel of the have nots and the storytellers. I used to teach Hip Hop as a class to students 4-8th grade. I used to work for Harlem Children Zone and for the agency. I started this class that educated students through song lyrics. I exposed them to the entire culture of Hip Hop — more than just rap. 
What did you talk about? 
We discussed how B-Boy dancing and Afrika Bambaataa [Zulu Nation] turned gangs into crews and lessened the violence in our neighborhoods. I exposed the students to graffiti art and introduced them to the entrepreneurs like Shirt Kings. I took them to the Scratch Academy school for lessons on being a disc jockey. We dove into fashion trends and changes that formed from Hip Hop. That's what matters to me. Did I do something to bring production to the culture? Am I creating music that last the test of time? That's means everything to me.