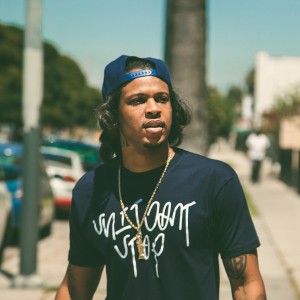 Hailing from the rough streets of South Central Los Angeles, burgeoning artist G Perico really saw music as his only salvation. At 29 years old, the Jheri curl-sporting G-Funk rapper is finally getting noticed by not only his peers, but also industry tastemakers. From his 2015 breakout single "G-Shit" to his latest album, All Blue, he doesn't shy away from his gang affiliation and stays true to exactly who he is. While Perico's music is in the same vein as gangster rappers like Eazy-E, N.W.A, Ice Cube and Snoop Dogg, he manages to put his own unique spin on the G-funk sound, and give it a freshness perfectly suited for the new millennium. 
As he was dipping out of his 'hood, Perico had some time to talk Jheri curls, "South Central" and racing cars with fellow West Coast MC Jay 305 in Part I of the RAPstation interview. 
RAPstation (Kyle Eustice): You're one of my favorite West Coast rappers to emerge in recent memory. 
G Perico: Thank you for appreciating what I do. You just got my day started right. My confidence is up. 
It should be. You grew up in South Central Los Angeles. Where did you go to high school? 
I went to a few different high schools like Washington and Westchester, but I only went to those schools for a couple days. I was in juvenile hall and youth camps a lot — stuff like that. 
Now that you're becoming more known, who's on your radar in terms of who you'd want to work with? 
Man, I'm a fan of everybody. The average rapper probably wouldn't even say that, but I'm a fan of damn near everybody's music, so there's probably isn't anybody I wouldn't want to collaborate with right now — unless I meet them in person and they just like a fuckin dick head or a bitch ass nigga and I don't want to fuck with them. There's a lot of people I haven't met yet and I don't know they character and shit, so I don't know if we gonna vibe. I'm down with the people I've already collaborated with like Nipsey [Hustle] and Cardo, I want to do a project with Cardo really and he's a producer. Off the top off my head, there's not too many artists I know personally so I don't want to jump the gun since I haven't met 'em yet. 
Do you think your Jheri curl gets you more attention? 
It has. The crazy thing — I was banking on the music; I wasn't even thinking about my hair. From my side of town, of course, there's no younger dudes doing it. It's still a lot of older dudes and OGs that have a curl. To me, in my head, it wasn't really something out of the ordinary, especially when there's people running around with purple mohawks and shit like that. It's pretty much my self-expression. A lot of people find it funny or they like it. 

I like the cover of All Blue with curlers. That was cool. 
[Laughs]. 
One of my favorite tracks is "South Central." If you had to pick one, what would you consider your breakout song? 
What just started getting me noticed among tastemakers and people in the industry is a song called "G-Shit." That kind of like opened me up to the industry like, 'Alright, he's here.' It's still kind of like the 'dude with the Jheri curl' though. I work so hard on this music, so when they say 'G Perico, the dude with Jheri curl,' now they gonna say 'G Perico, the nigga that make tight ass music.' 
'South Central' is definitely one of my favorite records, too. I had been working on that hook for a minute. I had so many people try to come in and do that 'East Coast nigga/West Coast nigga,' so I did it myself. All them vocals was me and I had AD do a background vocal in it, too. I would have had him do a verse, but he's from Compton so it wouldn't make sense with him rapping about South Central. It was dope how it came together. I sent it to Jay 305 and the cray thing is, me and him had been chillin' that whole week, but we was in friendly competition with everything He'd pull up and be like, 'Nigga you wanna race?' We racin' cars, and we racin' out of Nipsey's studio one night and almost got caught by the police.
What kind of car were you driving? 

Grand coupe BMW and he was in a Challenger. 
Did you beat him or what? 
As soon we start taking off, I start getting ahead and then the cops came around the corner, and everybody got loose. Next day, I sent them the 'South Central' record, but he sent it back — no bullshitting — 30 minutes later with the verse. When I heard it, I was like, 'Yeah this is the record I want to come out swinging with and I gotta perform it everywhere I go.'
It's got twice as many views as 'G-Shit.' Looks like you're just getting more and more noticed. 
Definitely. I'm just enjoying the process. 

Rightfully so. Next year, we'll probably be having a different conversation. 
That's dope. That's more motivation right there. I'm about to get up here and get to work, so it's good to hear that on a Friday morning. 

--------
Photo credit: Ian Goodwin
--------