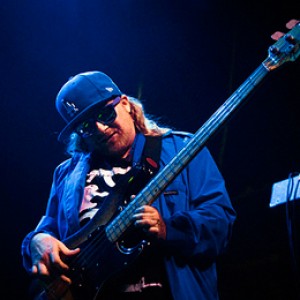 Erick "Jesus" Coomes, bassist for the funk band Lettuce and accomplished studio musician, graduated from the prestigious Berklee College of Music in the mid-90s. Since then, he's carved out a staunch reputation as a gifted bass player and one of the most genuine dudes in the business. Before his set at Red Rocks Amphitheater in Morrison, Colorado, where Lettuce was joined by special guests Ghostface Killah, J-Rocc of The Beat Junkies, The Meters' George Porter, Jr. and Cyril Neville, Coomes opened up about his roots in the Hip Hop realm. From working with Kanye West on tracks like "All Falls Down" to Eminem's 2009 album, Relapse, his love for Hip Hop not only runs deep, but it also helps fuel his musical talent.  
His brother, producer Tycoon, has multiple platinum hits and also works with the some of the most successful people in the industry, including Ron Fair, Diane Warren and Dr Dre. Coupled with their musician father, who essentially coined "Jesus music," it's a true family affair.  
Check out the interview below, which dives into what it was like working with Slim Shady, why he rocked a turban in front of Snoop Dogg and where he finds his undeniable zest for life. 
RAPstation (Kyle Eustice): Congratulations on your degree from Berklee by the way. 
Erick "Jesus" Coomes: Thank you. It felt like walking on air.
The last person I interviewed back here was B-Real. He was sitting right there (points).  
One of the nicest people ever. 
We were back here for Prophets of Rage. 
Awesome — that's pretty legendary. I haven't seen that show. I really want to see that show. I love those people very much. 
People don't understand the depth of your past with Hip Hop. What was it like working with Kanye West? 
You might see Kanye go, 'Oh my god I made the greatest beat of all time,' but he's just really excited what music is doing. But if you're in a room with him, he's a nice person. 
I'm glad you said that. I geek out about music, too. 
Me too! It's called passion. You love what you do. 
Absolutely. 

That's so cool. I'm glad we're doing this interview. 
I love the story about you wearing the turban to Snoop Dogg's studio. You would get done with yoga and go to the studio directly after and freak everyone out. 
On purpose, totally [laughs]. What's cool about people in the music scene is you can be yourself. Every night, I'm seeing everyone being themselves and doing what they want, so I said, 'You know what? I'm going to rock this turban [laughs].' I remember wearing it a bunch of times. I'd wear it all over. 
What was it like working with Snoop? 
Snoop's awesome. He and my brother tried to smoke each other under the table. It was awesome. I didn't smoke weed at the time and we were working on Anthony Hamilton's record and at the time, Snoop had signed Latoya Williams — bad ass singer. She was doing a guest spot on Anthony's first record, "My First Love." 
I'm positive, but I get emotional about it. 
When did you decide bass is your instrument? 
Well, my father is in the music business. He was a record producer and had me in the studio when I was really young, and my brother plays drums. For the first 12 years of my life, I was looking for an instrument. I was trying everything. I would sing in my crib. My dad has recordings of me writing little songs. I'd been trying to find a voice. My jazz band teacher pretty much made me play bass. I had tried a lot of instruments. My family being musical saw me play at the jazz concert and they were all excited. I guess I was good at it. 
So you were quite the prodigious player? 
[Laughs] I was just going to say that! You read my mind. 
To me, it's incredible. He can also play amazing, just chill bass. He has something about his voice. It's breathtaking. When you're watching him, you just can't believe you're seeing this person do this. My stuff is a little less like that. To me, my bass playing is a little less spectacular.  Who knows? It's so surreal now. You just make the art you do and then people respond the way they do. I'll never be too much of an art critic. I kinda like all the songs. 
You worked with Slick Rick? 
Isn't he great? I have a quote from Slick Rick that he told me: "Stick to your morals." He's like, 'Hey stick to your morals, kid.' I was like, 'Fuck yeah.' 
I met him backstage with his wife. 
Oh she holds him down. She's like his rock. 
It was so cute. They were rad. 
I believe in that strongly. My parents have been married for years. 
Is it true your father pioneered "Jesus music?" 
He's still rocking now. He works with Billy Graham's son. He just played in India. My dad has the biggest heart ever. I don't want this to come off wrong, but they were hippies early on and I think that affected their version of Christianity. 'God is love' is a really big part of it. It's not a negative vibe. He's like a musician hippie that is also into church, so he's spreading love with acoustic guitar and his voice. He's so excited. 
You also worked with Eminem? 
I got hired by Dr. Dre one night. I went up and played bass for them, and we made "Crack A Bottle" the first night. It was 2008 or 2009. 
How did you meet Dr. Dre? 
DJ Quik brought me to the video shoot for Truth Hurts and Rakim's "Addictive." I got to meet Rakim and Dre. I played bass on the beat. 
Were you always a Hip Hop fan? 

So when you met these guys, was it exciting? 
It made it a little bit difficult for me to be honest.
Dr. Dre flew me from the Burbank airport on his private jet to work with Eminem [laughs].
Were you like, 'I can't believe this is my life?'
Totally. I fell asleep on that plane ride and I couldn't believe it. I woke up and I was like, 'No! I missed the whole plane ride.' 
Eminem is a man of few words. He's passionate with his art. He's like one of your cool Hip Hop friends that doesn't say too much. He's just like, 'What's up?' then give you daps and then we work for the day. And I'm going to do the same thing with my bass. He had Studio A and we were in B. We'd be making beats and he'd be in A just smashing and destroying the vocals. He'd walk in every once in awhile and play us something. 
To be honest, we worked together pretty briefly, a couple weeks. It was work and I don't really say a lot in the studio. Where I come from, there's an etiquette in the studio. There's not a lot of talking in the studio. That's a good note for anyone — don't talk to musicians in the studio— and I'm telling myself— you're supposed to be listening to the music.
I heard Dre is pretty serious in the studio.  
Dre will do that, too. He will get all of these incredible musicians in a room and when he hears something he likes, he will just say, "Stop."
So he's strictly business, too. 
All of us our like that. Bringing it back to Lettuce, we might passionately scream at each other, but in a good way. We're not talking to the person, we're talking to force of music going through you and trying to get music right. Obviously you don't want to hurt anyone's feelings — feelings are important, but the music is pretty important, too.