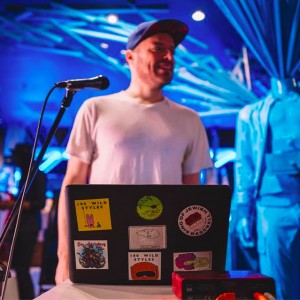 Tony Simon, better known as New York-based producer Blockhead, recently announced the title of his sixth solo studio album and follow-up to 2014's Bells & Whistles, Funeral Balloons, however, it's going to be quite a wait for the final product due to scheduling issues with the label, Backwoodz Entertainment. Fortunately for his loyal fans, the frequent Aesop Rock collaborator has also revealed his 2007 album, Uncle Tony's Coloring Book, is getting a vinyl reissue courtesy of Detroit's Heavy Soul Records, which is being unleashed on Record Store Day (April 22). Until then, Simon had some time to talk the new album, what he does in his downtime and why he's cooled it on his blog, Phat Friend. 
RAPstation (Kyle Eustice): You mentioned you are mastering your next album. What's the waiting period like between now and the actual release?
Blockhead (Tony Simon): I'm definitely not anxious yet. I generally like to get my music out as soon as I can but it's never that simple,unfortunately. 
How does it differ from the last one? 
This album is definitely a slight departure from my other albums. I mean, it still sounds like a blockhead album but I opted to go weirder on this one. Instead of seeking out catchy loops and typical sounds , I was drawn toward more abstract ideas. Also, there's more low end. I've always used 808s in my production but they play a more central role to a few songs on this album. 
You've done a lot over the past year—always seem to be traveling from place to place. What do you do when you actually get a break?
Oh I'm always on break. I make music consistently and tour frequently but I have plenty of downtime. My summers are typically me doing absolutely nothing, which is nice. I'm very good at loafing around. 
You also mentioned another album you just completed. Can you tell me about that?
Well, this other one isn't done yet. If fact, the fact my new solo album is gonna be released so far from now is actually a good thing for the other project cause i can do some extra work on it.  Initially, it was gonna be a "mixtape" of sorts…basically, my beats with rappers , singers and some instrumental tracks. My idea was to drop it for free before my solo album but the reality of it is that wrangling rappers tor record and make songs is an arduous process. Many of them flaked. Many took a long time. So, I stepped back from it and it's kind of evolved in a slower fashion. But I got a bunch of stuff recorded. Looking to add 2 or 3 more songs then put it out not long after the instrumental album drops. 
Do you prefer collaborating with other people on their work or crafting your own albums? What are the differences between the two? 
I love working with rappers because I love rap music. It's what I listen to in my everyday life so, when I work with MCs, I make music that I personally enjoy more. Working with other people is give and take. Every artist has their own ideas and bubble they work in. I'm not different. So, depending on the two people collaborating, it can go smoothly or it can be more touch and go. Either way, the results are always interesting. Solo albums are just me, alone. I think I like that because I get to work on my own clock. I don't have to check in with anyone. It's like the difference between being single and having a girlfriend at times. 
Are you still doing your blog, Phat Friend? If not, why did you decide to shut it down?
I haven't retired completely, but I have stopped doing it just to do it. I think I just hit a creative wall. I was writing four times a week and finding things to discuss got tiresome. On top of that, I got tired of arguing with people who would be outraged over things I wrote, which was extra annoying because I stopped trying to be shocking years ago. The fact of the matter is that everyone has that thing that sets them off and I guess I was good at hitting those buttons. It just was no longer fun because I found myself watering down my own thoughts because I didn't want to deal with the feedback anymore. It wasn't fun anymore, so I pretty much just post about music stuff and on occasion, I'll write a rant when I'm inspired.
I always remember you saying you don't listen to instrumentals, but yet you make the dopest instrumental music. What are you listening to these days? Who are some of your favorite newer MCs? 
The is going to be a little embarrassing because my personal playlists are all over the place. I fuck with all sorts of rap. From real rap shit like Roc Marciano, Sauce Walker, Conway, Vince Staples, and Gunplay to more abstract stuff like Billy Woods, Open Mike Eagle, Quelle Chris, and Tree, to newcomers like Mach Hommy, Vic Spencer and Ugly Frank to mainstream shit like Migos, a few Post Malone songs and even some Future. I'm all over the place. In my old age, I've learned there are various ways to appreciate music and only listening to music in one way really limits your experience as a listener. 
What's next?
Billy woods and I did a new album together — with a few Aesop produced songs on there, too — called Known Unknowns that will be out in a few months. Then I drop my new solo stuff and tour until I can't tour no more.