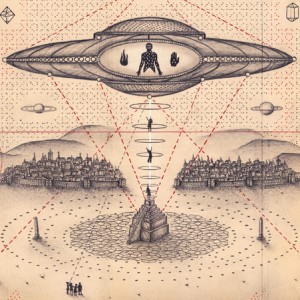 Barclay Crenshaw, who has earned international recognition in the house music world under the moniker Claude VonStroke, has finally honored his inner desires of making good old fashioned Hip Hop. After dropping the Transmission 001 mixtape featuring The Cool Kids and A Tribe Called Quest, he followed up with his self-titled full-length, which features album highlight "U Are In My System" with The Cool Kids. The 10-track project also boasts guests spots from The Underachievers and Mr. Carmack, and is pure evidence of his love of electro-influenced Hip Hop. The busy Los Angeles-based producer, who also owns Dirtybird Records, had a few moments to discuss his reinvention, childhood and why he left the Bay Area. 
RAPstation (Kyle Eustice): Where did you come from? 
Barclay Crenshaw: I was born in Cleveland and when I was a little kid we moved to the suburbs of Detroit and started listening to Hip Hop when it first started getting big. I was super into it. I played the cello and i wanted none of that. I wanted to get a sampler and figure out how people make tracks. I was 11. I even made rap tapes by dubbing one boombox to another one and slicing the tape to make the stutters and stuff. 
What did your parents think of that? 
They didn't really know what I was doing. They had no idea what it was. 

They wanted to know where the cello was. 
Yeah that's what they said. 
When did you decide it was something you wanted to pursue seriously? 
I was alway into all kinds of electronic music. I got sidetracked for a long time thinking I was going to be a movie director, but even when I was doing that I was still making music. I eventually just clued in that I was way better at making music. 
Did you ever make any movies? 
I worked on tons of movies and then I made a documentary about LA house DJs and then I ran out of money, and I had to make music that sounded like them under the interviews— like 40 pieces of music that sounded like these house stars, so that's how I got into being Claude VonStroke. 
Where did this alias come from? 
It was just a joke about very serious, minimal techno DJs in the 2000s. 
And how seriously they took themselves? 
Yeah and like a Count Dracula porn star name, or whatever.
Are you influenced by a lot of electro? 
I am. Absolutely. 

Do you like Hashim?
Oh "It's Time" — that's the most sampled scratch track. 
When did you move to LA? 
Three years ago. Before that, I lived in San Francisco for 15 years, then I moved to LA.

Why did you decide to move to LA then? 
It's the center of the music business. I felt we were on an outpost. There's this thing that happens in the Bay Area— everyone knows who you are there and that's it. A few people pop out of it, but they still kind of low key. That hyphy stuff, no matter how big it got, it still stayed rather insular, like it didn't go international or anything. It's like a clique-y environment, but people are super creative and awesome there, but it's just not conducive for getting your stuff out to everyone. 
There is so much to do in LA. Do you find it that way living there? 
Everyone is working in the music industry or the movie industry, and everyone is trying to make something happen, so because of that, there's a lot of things happen. Everybody in the Bay Area is doing a job and music is their side project, but in LA you can do music as your job. 
What's the next step? 
We have a music festival every year with Dirtybird Records. This is year three. It's where I debuted the Barclay Crenshaw stuff in year one. 
How do you use your music as your catharsis? 
It's interesting. I've been grumpy this week and it's because I haven't finished any music. If I'm not getting songs done, I start to get irritable. I have to do some creative project or I start to freak out. It's funny. I'm much more popular for Claude VonStroke. I've been doing it for 17 years. I'm 45. I was joking that it's kind of insane to bring out a new alias when you're 45.