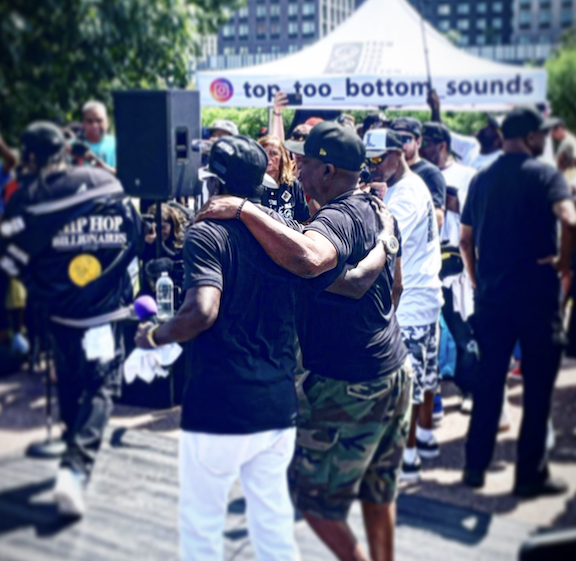 New York City lit up with Hip Hop 50 events in celebration of August 11, the same date in 1973 when DJ Kool Herc and Cindy Campbell their their infamous Back to School Jam at 1520 Sedgwick Avenue in the Bronx. It's a date many consider to be the birthdate of the culture so naturally, the Hip Hop pioneers and architects came out in droves. At Mill Pond Park on Friday (August 11), Chuck D, Flavor Flav, Melle Mel, Scorpio, Rahiem and many others convened for Van Silk's RAPAMANIA showcase.
Co-sponsored by the Universal Hip-Hop Museum and Red Bull, the event represented all elements with DJs, graffiti legends like Lady Pink (who appeared in Style Wars), photography icons such as Glen E. Friedman, Martha Cooper and Ernie Paniccioli, Red Bull BC One b-boy cypher and, of course, a roster of MCs. 

Highlights of the event included seeing Flavor Flav and Chuck D take the stage with their arms wrapped around each other, and Rahiem, Melle Mel and Scorpio onstage together just days after settling a 25-year rift. 
But that was only the beginning of the celebratory and what is sure to be a historic weekend. Later that evening, Yankee Stadium became the site for the "Hip-Hop 50 Live" concert. Performers included Kurtis Blow, EPMD, Snoop Dogg, the Sugarhill Gang, DJ Hollywood, Doug E. Fresh, Fat Joe, Cam'ron, Nas, Lauryn Hill and dozens more. 
As for Run-DMC, the event's headliner, it was after 1 a.m. by they hit the stage with classics "It's Like That," "My Adidas," "It's Tricky" and "Mary, Mary." Billed as "The Ninth Inning...The Walk-Off," it was a bittersweet end to Run-DMC's legendary career.
On Saturday (August 12), KRS-One threw a huge block party at 1520 Sedgwick Avenue with performances by Public Enemy, KRS-One and more, but the sweltering heat put the kabash on many attendees' plans to stay the whole day. But that didn't matter because there was so much more to do. 

Rakim happened to be performing at Lincoln Center alongside Fu-Schnickens, Rapsody and an unexpected guest, Bahamadia. Rakim capped off the evening with a set list that included hip-hop classics like "I Ain't No Joke" and "Microphone Fiend."
Needless to say, New York City showed out all weekend—even the Empire State Building was lit up in gold to commemorate Hip Hop's golden anniversary.