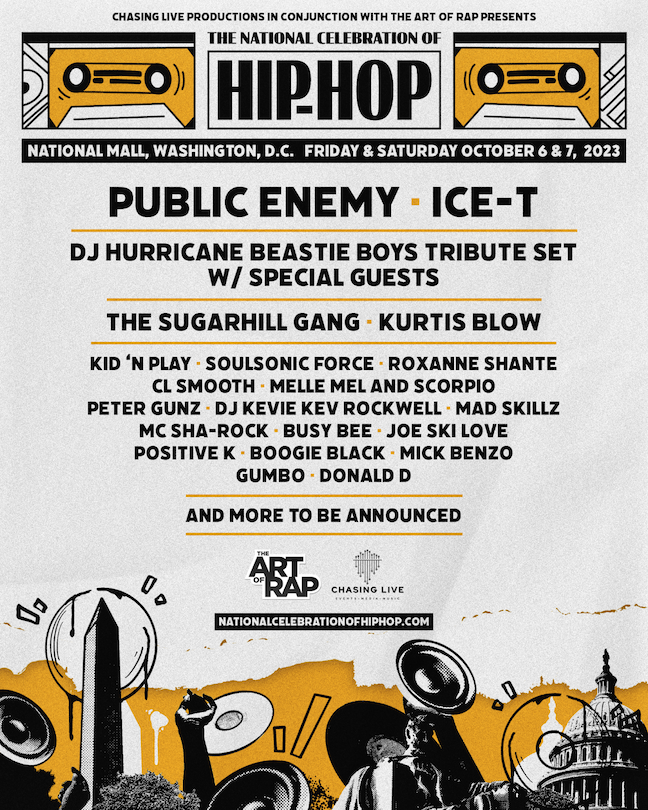 Public Enemy and Ice-T have been plucked to co-headline "The National Celebration of Hip Hop" at the National Mall in Washington D.C. on October 6-7. Additional guests and performers include Melle Mel and Scorpio of the Furious Five, Kurtis Blow, Kid 'n Play, Soulsonic Force, Roxanne Shanté, CL Smooth, The Sugarhill Gang, MC Sha-Rock and Positive K. Additionally, DJ Hurricane, former Beastie Boys' turntablist, will be on deck for a tribute to Mike D, Ad-Rock and the late MCA.
"We are honored to continue to celebrate the 50th Anniversary of Hip Hop against the backdrop of America's Capitol with a free event for everyone," Flavor Flav said. "I can't wait to get on stage and do our thing." 
Chuck D added, "Hip Hop is beyond, not just a musical genre. It's a cultural movement that has dominated art, fashion, politics, poetry, academia, film and every corner of the world for the past 50 years. This National Celebration brings it all together in one place for the people, by the people." 
The event is free, but fans must register beginning on Wednesday (August 23) at 10 a.m. ET. Free Tickets will be released on a first come, first serve basis. Find more information here.