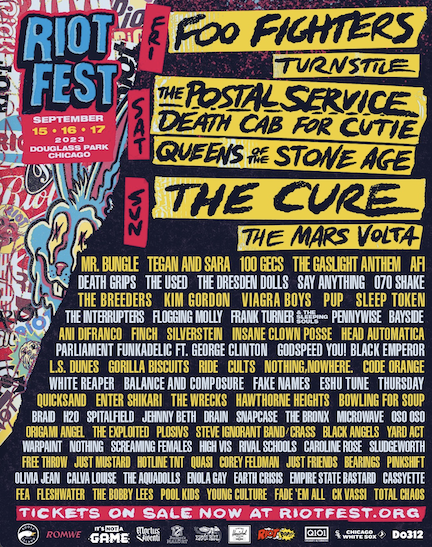 Riot Fest has announced its 2023 line-up featuring headliners Foo Fighters, The Cure, The Postal Service, Death Cab for Cutie and Queens of the Stone Age. Additional acts include Turnstile, The Mars Volta, Mr. Bungle, Tegan and Sara, 100 Gecs, The Gaslight Anthem, Death Grips AFI and dozens of others. 
While past iterations of the festival have included Run-DMC and Snoop Dogg have been among the sole Hip Hop acts to hit the Riot Act stage, the genre is noticeably absent this year. But, Parliament-Funkadelic and George Clinton will make an appearance at the Chicago fest the weekend of September 15-17. Their musical compositions, of course, are building blocks for countless Hip Hop hits, including Dr. Dre's The Chronic. 
Founded in 2005, Riot Fest has presented nearly 20 years of performances, exclusive reunions, and more—including freak shows, Lucha Libre, panel discussions and late night shows, creating unique annual weekend experiences in one of the world's greatest cities. 
Riot Fest takes place in Douglass Park, a scenic, historic park easily accessible on Chicago train and bus lines. In addition to Riot Fest's music, rides and other attractions, Douglass Park is surrounded by diverse neighborhoods rich in culture, food and drink options and more. Tickets are on sale here.