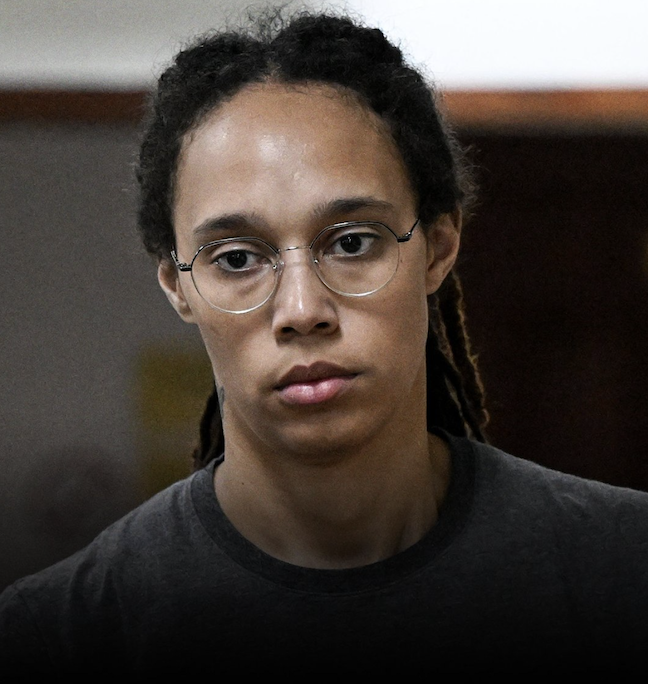 Ten months after Brittney Griner was arrested in Russia for allegedly "smuggling" hashish oil in her luggage, the WNBA star is going home. President Joe Biden made the announcement on Thursday (December 8), explaining the United States had traded convicted Russian arms dealer Viktor Bout—also known as "The Merchant of Death"— for Griner's freedom. Biden tweeted two photos of himself with Griner's wife, Cherelle Griner, with the caption: "Moments ago I spoke to Brittney Griner. She is safe. She is on a plane. She is on her way home." 
Of course, social media exploded with reactions to the sudden development. Although Biden has been working on securing her release for some time, it was unclear if negotiations had worked. 
The Roots' Questlove was shocked by news, tweeting, "A Miracle. Brittney Griner is finally coming home. Wow." Kurtis Blow was simply grateful for her release. As the ordained minister wrote on Facebook, "Good morning thank God we all woke up! Brittney Griner is free praise God! Say Amen!" Like many others, Bumpy Knuckles was relieved the ordeal is over for her: "Glad to see that Brittney Griner is coming home," he tweeted. 
Biden further addressed Griner's release during a press conference, saying, "After months of being unjustly detained in Russia, held in intolerable circumstances, Brittney will soon be back in the arms of her loved ones and she should have been there all along. This is a day we worked toward for a long time. We never stopped pushing for her release. It took painstaking and intense negotiations."
The family of Paul Whelan, another American wrongfully detained in Russia, was pleased Griner is on her way home but "devastated" his release wasn't granted. 
"I can't even fathom how Paul will feel when he learns," Paul's brother David Whelan told CNN. "Paul has worked so hard to survive nearly four years of this injustice. His hopes had soared with the knowledge that the US government was taking concrete steps for once towards his release. He'd been worrying about where he'd live when he got back to the US." 
Biden ensured everyone they would not give up on securing Whelan's release. Watch Biden and Cherelle Griner's remarks below.