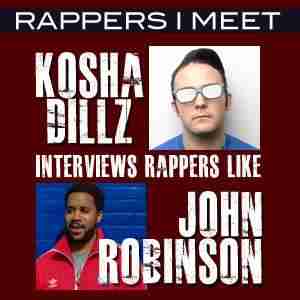 On occasion, we hear those songs where everyone gets a shout out. In other songs we hear, the city is being represented to the fullest capability. This column (or the beginning of it) represents a "tour guide" for any visitor and a new taste of music for the person going above and beyond the average station. I met John Robinson in Highland Park, New Jersey in 1999 with Scienz of Life. Since then, I have seen him overseas in Czech Republic all the way to Los Angeles, but we always get a chance to link in New Jersey.
Kosha Dillz: What is the most interesting hip-hop fact about where you live?
I live in Piscataway, NJ and when I moved here in 92-93 during my senior of school from the Bronx, NY. At this time Fat Joe had a line in his song "Flow Joe" where he mentions "from the Bronx to Piscataway"...it really blew me away that he would ever mention a small town like Piscataway, but even more so that I had just moved "from the Bronx to Piscataway" in real LIFE!
What is one thing people wouldn't know about you from the outside looking in?
That one of my first dreams was to play professional baseball. I used to absolutely LOVE baseball, I played from about 8 years old until a junior in high school.
Tell me about your favorite song to perform?
My favorite track to perform is a song called "Black Gold" produced by MF DOOM. The songs feels good on stage and I love the way it has connected me with people from the powerful energy that the song contains. The chorus is an affirmation that can be used to channel positive vibrations.
What is the best part about performing in your hometown/ current residence?
The best part is a lot of my inner circle family & friends that don't always get to see me perform can attend, and it is a vibe that is different from being in another bigger city in the U.S. or overseas. I have learned to cherish hometown vibes even when they are intimate.
What's the best spot to eat in your city when some other musicians visit?
I am a newly found Vegan for the last year and change, so my choices and thought on food spots to eat have changed. I would take peeps to New Brunswick, which is the neighboring town and go to De Island Breeze for Caribbean food and or we can enjoy some fine Ethiopian grub at Makedas.
What's the most important thing for a touring rapper to do when he/she touches down?
Enjoy the quiet serenity and the nature! Embrace the slow pace and the empty space! Piscataway, NJ is a very low-key place with amazing creative vibes to soak up. Don't sleep on the quiet life. Please visit http://www.thejohnrobinsonproject.com for more information and http://www.twitter.com/whoisjr to follow John Robinson on Twitter. By Kosha Dillz for RAPstation.com