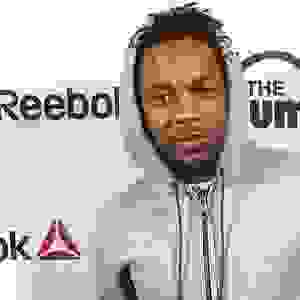 Kendrick Lamar has taken the time to try and unite warring gangs as well as bringing attention to different social issues, for as long as he's been on the music industry's radar. Lamar has used lyrics as well as album artwork to unite people, and is now moving to a whole new medium: Fashion. In his song "i" Kendrick says,
"Brother Kendrick Lamar! He's not a rapper, he's a writer, he's an author! And if you read between the lines, we'll learn how to love one another! But you can't do that...I said you can't do that - without loving yourself first."
Kendrick Lamar has teamed with Finish Line and Reebok to bring back the Reebok Ventilator, a sneaker that first came out 25 years ago.
"It was really about getting to that success level where you can go back to your neighborhood and people feel like, you know, they look up to you,"
he said regarding the revamped shoes and the commercial he shot at his alma mater, Centennial High in Compton, CA. For the new sneaker release, he's creating visual harmony between red and blue, signifiers for the Bloods and Crips respectively. The shoes have been shown featuring the word "Blue" on the left heel, and "Red" on the right heel, while the tongue on both says "Neutral". In a voiceover for a Reebok commercial he said,
"We, the people, can no longer hide. The time is now and they know it, too. For we hold this truth to be self-evident: A wind of change is blowing in."
Kendrick Lamar has emphasized his drive to stay true and be original, and spoken about how these shoes will have elements reflecting his upbringing saying, "My thing is always about the originality, so I always go back to having something that's representing the culture in my community." The L.A. Times reported that we can expect to see see a custom-designed Reebok shoe line out before too long, and according to Hypebeast, the sneakers will be available on July 18 for $142.