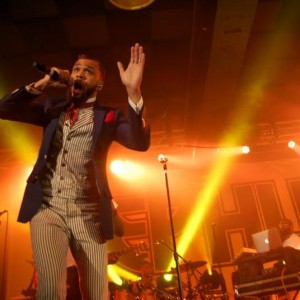 Ain't a better way to kick off new year jams than with a brand new remix says Rhythm Scholar who just dropped his take on Jidenna's hit single "Long Live The Chief".
While his debut album of the same name is scheduled for its much-awaited release on January 17, the suit and tie emcee allowed early access with a memorable performance of said single on the popular Marvel-inspired Netflix show, Luke Cage, which staged Jidenna himself in the fictitious Harlem's Paradise.
With merely two weeks before the album finally launches, "Long Live The Chief" undertakes a classy Rhythm Scholar remix treatment (both in clean and explicit versions), fusing in samples from the Red Hot Chili Peppers, Michael Jackson, Rare Earth, Queen, as well as Sounds From The Ground, creating both a unique and alternative backdrop to which Jidenna spits out familiar bars.
Praised for his intricate renditions and splices that simply hit the spot, Rhythm Scholar houses several remixes of memorable tracks from a laundry list of hip-hop greats, such as A Tribe Called Quest, De La Soul, Stetsasonic, Eric B. & Rakim, as well as going beyond genres with takes on Madonna, The Beatles, and James Brown.
Spice up your new year's playlists with Jidenna's "Long Live The Chief"(Rhythm Scholar Remix), and check out more magnum opus work by clicking here.
By Jods Arboleda for RAPstation.com