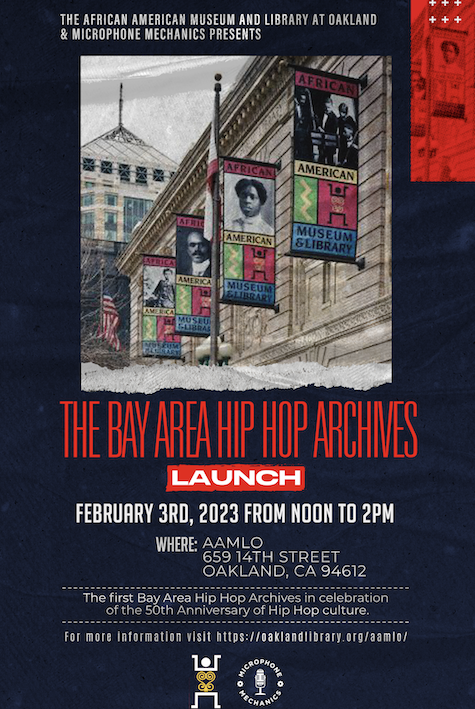 Bay Area Hip Hop artist Jahi, his company Microphone Mechanics and The African American Museum and Library at Oakland (AAMLO) will establish the first Bay Area Hip Hop Archive at AAMLO. The launch takes places on February 3 from noon to 2pm PST at 659 14th Street in Oakland. 
"The Bay Area Hip Hop Archives will chronicle various artists, culture keepers, activists and educators who have made significant contributions to Hip Hop culture in the Bay Area," the press release explains. "The special collections will include never before heard sound recordings, interviews, research notes, photographs and negatives, playbills, posters, maps, booking contracts, business records, tour routes and other memorabilia designed by the artists.

The inaugural class of inductees include the late Pam the Funkstress, Phesto of Souls of Mischief, Mystic, DJ D Sharp, Davey D, Suga T, Thembisa Mshaka, Traci Bartlow, Paris and The Upper Room. A total of 50 artists will be introduced as the first class on Hip Hop's designated birthday, August 11. 
"AAMLO is the Smithsonian of Oakland," Jahi says. "To be able to partner with them to archive the history of Bay Area Hip Hop culture is a continuation of my legacy work for the overall preservation of Hip Hop culture." 
Chief Curator Bamidele Agbasegbe-Demerson adds, "This gives us the opportunity to build a collection that we have not had before, and we welcome the Bay Area Hip Hop Archives to AAMLO." Find more information
here.