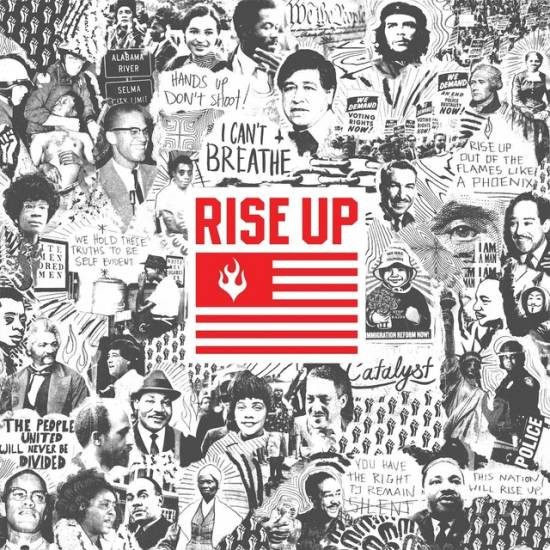 J. Period's long awaited album, The RISE UP Project, has finally arrived. Boasting contributions from The Roots' Black Thought, De La Soul's Posdnuous and former Organized Konfusion MC Pharoahe Monch, the 10-track effort comes with executive production from DJ Jazzy Jeff, Young Guru, DJ Khalil and Period himself. 
"As artists, we have a responsibility to showcase unity, raise awareness and take action," Period said in a press release. "In order to truly change hearts and minds, and bring people together, movements need music. Now is the time to elevate the conversation and raise the bar. It's our time to rise up."

The 10 new songs are intended to "speak to the renewed urgency of the fight for justice and equality in our nation."
"RISE UP is very necessary," Black Thought added. "It speaks to the current climate in this country in a way that is clear and articulate. It means a lot for me to be able to show solidarity with my fellow artists and long-time collaborators. Projects like this are essential creative push back in such absurdly turbulent times."
Check out the album stream and tracklist below. 
1. RISE UP! f. Black Thought, Posdnuos, Pharoahe Monch & Joss Stone
2. Miranda (Remix) f. Rhymefest, Xzibit & Jesse Williams
3. Mr. Officer (Edit) f. Eric Roberson
4. See the Light f. Andra Day & Dead Prez
5. Love Your Brother (Interlude) f. Maimouna Youssef
6. SOLDIERS f. Dead Prez, Sa-Roc & Maimouna Youssef
7. Hands Up, Don't Shoot f. Aloe Blacc
8. The Follower (J.PERIOD Remix) f. Dayne Jordan, Aaron Camper & Mayda Del Valle
9. America Divided (Outtro)
10. Things Deeper Than My Skin f. Ozay Moore