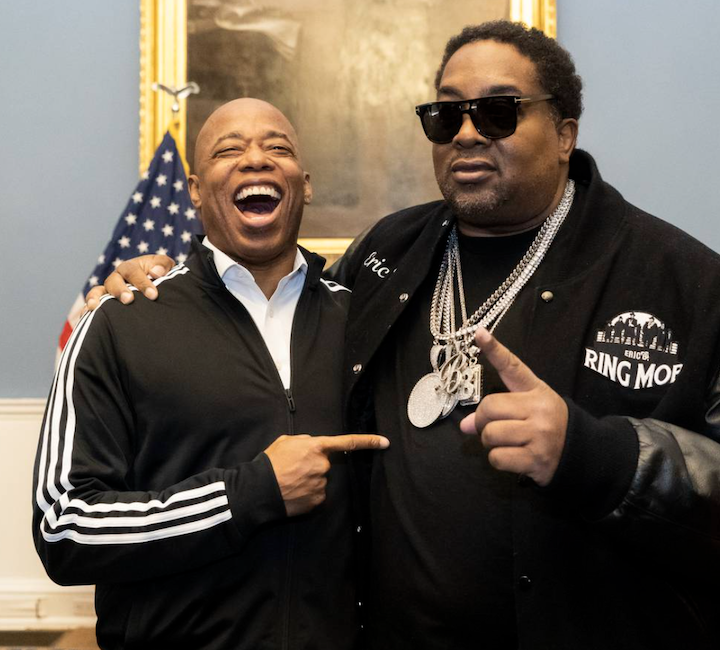 Grandmaster Flash, Roxanne Shanté, Eric B, "Video Music Box" founder Ralph McDaniels, Slick Rick and Chuck Chillout were among the Hip Hop figures who showed up at City Hall to meet with New York City Mayor Eric Adams. During the meeting, the Universal Hip Hop Museum and the City of New York announced their new partnership and discussed how they were going to commemorate Hip Hop's 50th birthday next year. 
As Eric B explained to RAPstation, "So what we're doing is the city has come aboard to celebrate 50 years of Hip Hop starting in New York City and the city is going to put together 50 concerts. They're doing all kinds of parties—small parties, big parties—and at the end of the year, in August, we're going to do a huge one in Central Park." 
When asked if the concert will reunite Eric B & Rakim, he answered coyly, "Anything is possible. It's definitely one of those things where it's like, 'Damn, I could have played Woodstock.' You don't want to miss out. We're gonna have a great time." 
In addition to the architects and pioneers who were in the building, Eric B was impressed by FIVIO Foreign's support. The buzzing Brooklyn drill rapper was genuinely thrilled to be a part of such an historic event. 
"You had the young guard that is hot right now, you had Sugar Hill Gang—from the originator to who's next," he said. "FIVIO more than anything about him rapping, he's a fan first and foremost. I introduced him to Roxanne Shanté and he went crazy. He was ecstatic to be there. FIVIO hugged everybody, like, 'Yo, can I take a picture with you?' It was a blessing from these young guys to say we all family and we rockin' with you." 
He continued, "Just because we are the elder statements, we can't leave the young guards out. We need these guys to take this another 50 years. Let me tell you something, FIVIO showed up not a FIVIO but as a fan of the music. His attitude was amazing; he was happy to be there. The mayor, too, was so accommodating. He was like, 'I had a speech impediment as a kid, I've been in jail, but I grew up on you guys and you gave me the opportunity to have a voice.' The thing was powerful. The energy in the room was great. Nobody was acting like a superstar. Everybody was on their best behavior." 
The Universal Hip Hop Museum, appropriately located in the Bronx, will be dedicated to the celebration and preservation of Hip Hop music, dance, art and culture and will serve as a "permanent place to celebrate the music." It's expected to officially open to the public in 2024.