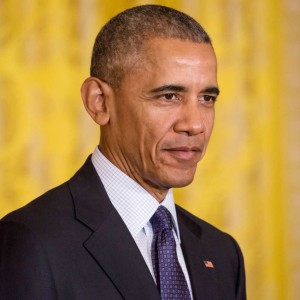 "I know the arts saved my life," Q-Tip told standing behind his podium at the National Arts and Humanities Youth Awards ceremony held at the White House, a historic moment without a doubt.
But there had been rappers and hip-hop artists within White House walls even before president Barrack Obama's tenure, Eazy-E had been the first, followed by Sean "Diddy Combs", but the latter had only been given a tour, while the other attending due to technical reasons.
The Obamas were the first to fully embrace both hip-hop music and culture, and recognize its significance, seeking out pathways for hip-hop to teach and inspire; Q-Tip simply represents one among the many, proving that the link between hip-hop and president Obama went further beyond his humorously-pleasant playlists reveals.
Rap music fueled the Let's Move! Initiative, First Lady Michelle Obama's campaign to end childhood obesity, and along its front lines stood veteran emcee and beat box pioneer, Doug E. Fresh in a memorable "Everybody" music video.
With such uncanny acceptance towards an arguably-unorthodox form of art, perhaps even president Obama foresaw the inevitable backlash and criticism, which came along through opposition against Common and his heartfelt poetics during a memorable "An Evening of Poetry" held at the White House.
But did Obama's hip-hop furtherance cease there? Perhaps the answer lays catalogued along his next four years: Queen Latifah performs at A Tribute to Memphis Soul in 2013; Big Sean participates at the White House Easter Egg Roll the year after; Killer Mike at the capital's Correspondents' Dinner in 2015; Wale guest speaks at the Beating the Odds Summit that same year, not to mention becoming the first emcee to open the State of The Union Address in 2016.
The list goes on, with Kendrick Lamar's memorable performance at the Fourth of July barbecue, as Common returns to perform for NPR's Tiny Desk Concert during the South by South Lawn Festival as well as BET's Love and Happiness event which showcased a stellar lineup of feature artists, such as De La Soul and The Roots, just to name a few.
April was also a memorable month, as hip-hop artists Chance The Rapper, J. Cole, Wale, Ludacris, Pusha T, DJ Khaled, and Busta Rhymes contribute their voices during the My Brother's Keeper Initiative which operated as accords on criminal justice reform—which apparently became a humorous event when Rick Ross's ankle monitor went off, catching the President's attention.
The Obamas without a doubt knew how to utilize hip-hop as a way to empower others, and that included the Obamas as well—remember his playlist? Some of his featured tracks included Jay-Z's "So Ambitious", Kendrick Lamar's "How Much a Dollar Cost", and Nas'"As We Enter" to name a few, but you can catch his top five in a particular Sway In The Morning interview.
It's antics like these that garnered accolades such as in Newsone's "For the past eight years, the Obamas gave rap and Black music a place to call home... By embracing a music genre that, at times, serves as a voice for the youth, the Obamas inspired hope for a generation who may have felt detached from mainstream society."
Biggie knew what he was saying when he said, "Never thought that hip-hop would take it this far," which it obviously did.
January 20th 2017 marks the end of an era, one that marked a home for hip-hop, both for its music and its culture. But the legacy still lives and carries on through the hearts affected by the movement sparked by Hip-hop and fanned by the Obamas.
By Jods Arboleda for RAPstation.com