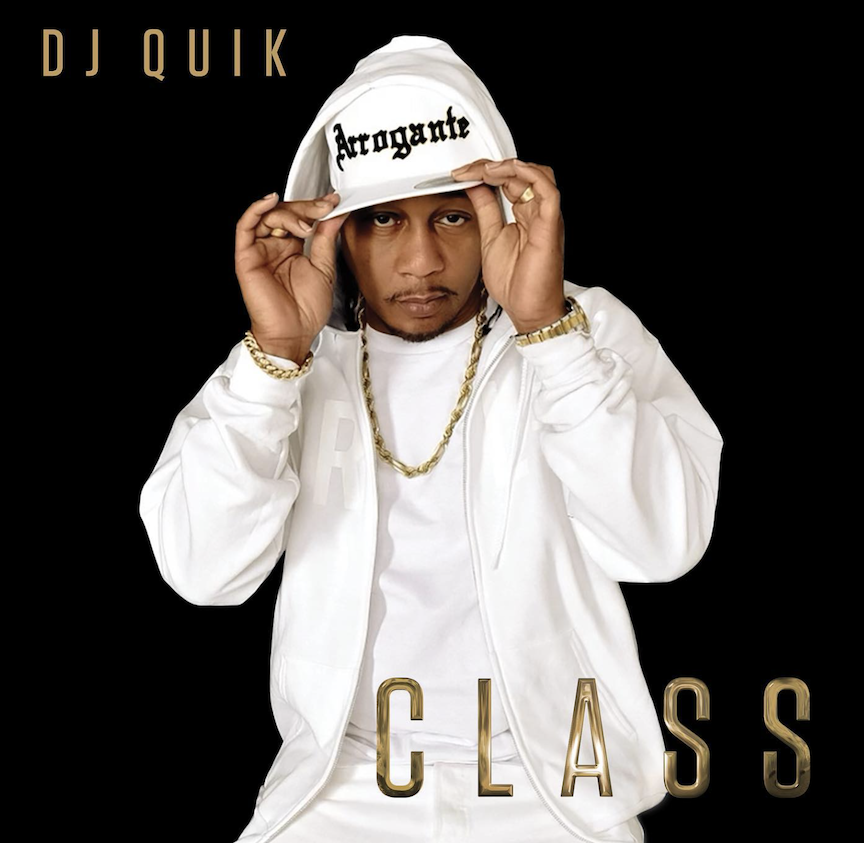 DJ Quik is on the hunt for good charcuterie, which he says is "hard to find" in L.A. these days. "Not to sound boujee," he adds."But charcuterie is everything [laughs]." It's Thursday (March 30) and within hours, his first solo single in nearly a decade, "Class," will hit all digital streaming platforms. But that was never supposed to happen. He was done making albums. Finished. Finito. 2014's The Midnight Life was it. Then the pandemic happened. Now, DJ Quik fans are mere months away from his tenth and final album. 
"After The Midnight Life, I was pretty much whatever, you know, just tripping off the way the industry was changing so fast," he says with a chuckle. "I'm by myself, so it was just tough to navigate that shit. So I was like, 'Alright, this will do it.' I didn't announce any retirement or nothing. I just stopped doing records. Like, fuck it. I focused on the tour, just focused on doing live shows. I had no plans at all until the pandemic, then I had too much free time on my hands, and I was going stir crazy. So I booked the studio and just started shedding stuff out."
DJ Quik, born David Marvin Blake in 1970, grew up with the sounds of funk, soul and jazz blaring through his parents' speakers. It molded his musical tastes and later, had a profound impact on his style of production. Even today, he gravitates toward Curtis Mayfield, Roger Troutman, Aretha Franklin and Parliament-Funkadelic to weave into his work. "Class," in particular," was sparked by a sample of the Impressions' 1972 single, "This Love's For Real." 
"I was listening to some streams and this sample caught my ear," he explains. "It was in my algorithms and it suggested some songs that might be in this category. So this record came on and I was blown away. I remember hearing it as a child, but it wasn't a big record. I'm a big Impressions fan and love Curtis Mayfield. So I just sampled it, looped it and put it in an MPC 3000 to see what it sounded like. It came out pretty funky, or as we say, 'fonky.'" 
He had to clear the sample first, so his attorney reached out to one of the surviving members of the Impressions, Leroy Hutson, and got his stamp of approval. 
"He asked him if he was down to clear this record," he says. "He asked for one change, and I did it—and I did it in record time. He just so happened to like the record so that can't play against me. That was awesome." 
A quick mention (no pun intended) of sampling was all it took to take the conversation to the complexities of sampling in the 1980s and 90s, especially for albums such as De La Soul's 3 Feet High & Rising and Beastie Boys' Paul's Boutique. In fact, Quik remembered sampling a song from the latter for the Penthouse Players Clique's 1992 debut, Paid The Cost (Priority Records/Ruthless Records), one of many projects Quik has sprinkled his production prowess on. 
The way he lights up about samples is the same way he lights up about Hip-Hop. When it started to blossom in the Bronx borough, it inevitably made its way to the West Coast. Finally, Quik felt like there was something just for him. 
"We were just waiting for our music to come along, I guess, as a DJ, and then Hip-Hop came and changed everything," he says. "So I was into Hip-Hop after all that funk shit from '84 out. It was a perfect fit. It gave me the chance to be a street reporter. We can rap in real time about what's going on and maybe affect change."
Of course, Public Enemy was the blueprint for revolutionary rap. Even though Quik was still young (he was just 21 when he released his debut album, Quik Is The Name, in 1991), he understood the importance of what Chuck D, The Bomb Squad, Flavor Flav and the S1Ws were doing. 
"They were made out of necessity," he says. "People didn't really want to hear that kind of music, but people felt it. It was like the caution light of music. Like, 'Warning, warning!' It was just important—and it stands up to this day. I was listening to it on the plane the other day and it was just incredible. It still makes you feel the same way when you first heard it." 
Quik is hoping with all of the violence and division going on in the United States, he can still make music that will simply make you happy.
"I do music to make people feel good," he says. "I hate to sound like the leader, but that's what the fuck I am. So I make music that makes you feel good, and some of the music that's been coming out lately gives me anxiety. It touches my anxiety nerve." 
More than 30 years in, Quik is enjoying making records again. He knows as well as his fans do, he could have hung up the mic (and the MPC) years ago. Quik Is The Name went platinum, 1993's Way 2 Fonky struck gold just three months after its release, 1995's Safe + Sound found similar success as did 1998's Rhythm-al-ism. Not to mention his production work for artists such as 2Pac, Eazy-E and Toni! Tony! Tone! kept the income flowing, something he doesn't take for granted.
"Another reason I'm making this record is because, number one, I'm one of the good, good producers, like Top 10 producers of all time," he says confidently. "I am. So I make money off this shit. I want to make money off this shit. I like doing this because it pays my bills, and I have fun doing it. And they say that if you do what you love, you never work a day in your life. I'm kind of living the dream like this. You know, it's rare. It's like hitting the lottery being a great producer." 
But money isn't the only thing driving DJ Quik to greatness. As he says, "It wasn't just the money. It was that it made sense. Think about it. I grew up in Compton, the Beirut Compton, the Vietnam Compton. To be able to survive that and navigate that—with adolescence on top of it where you always make mistakes—just said a lot about me being damn near a genius [laughs]." 
Many of his friends and peers weren't so lucky, including Eazy-E who died in 1995. There were periods during the Ruthless Records era where Quik was just as wild as Eazy. When he died, things changed. 
"It stopped being fun right there," he says of Eazy-E's death. "N.W.A was just as bullhorn as Public Enemy, but they still had this fun element. Eazy was just so approachable, so brotherly. He was my boy. I had to deal with a lot of backlash for interviews, people putting words in my mouth; it got the rumor mill going. 
DJ Quik never had the chance to say goodbye to his friend, which he calls one of his "biggest fucking regrets in life." He explains, "Here I am thinking, before he died, 'Oh, this is some bullshit. I just saw him at the radio station. Eazy's fine.' I let time pass and didn't go see him 'cause I'm thinking he's gonna get out of hospital and I'll go check him out in Calabasas, Malibu or one of his other crash pads. But he never came out of the hospital."
Quik found making music to be his catharsis. It allowed him to purge all of those inner thoughts that could've torn him apart. And to think, it all started with Dana, the first girl to break his heart and launch him into a period of, let's say, exploration. 
"That motherfucker," he laughs. "Dana got to me. My views of love were from all the Bobby DeBarge and Luther Vandross records. Anita Baker. Even Prince. Basically, every Prince ballad he ever did is amazing. 'Adore' is probably the greatest R&B song of all time. Arguably." 
With these musical building blocks and formative experiences, DJ Quik came up with perhaps one of the most memorable lines in rap history: "If it don't make dollars, it don't make sense," from Safe + Sound. 
"Honestly, ain't that the coolest line ever?" he says. "That's why I am putting this record out 'cause I know it's going to make some dollars."
"Class" is currently available on all streaming platforms. The album is expected to arrive shortly before summer. 
(Article originally published at Rock The Bells.)