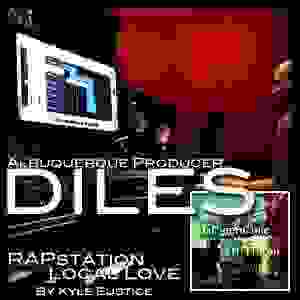 If you've ever been to New Mexico, you've probably witnessed at least some portion of the underground hip-hop culture, which is currently in full bloom. B-boys, DJs, emcees, and graffiti artists breathe life into the arid desert that surrounds them. Producer Colin Hazelbaker, who goes by the name Diles, has been dabbling in music since he was a child, and it recently became his profession; a profession he just so happens to be insanely passionate about. Based in Albuquerque, Diles has his hands in several different projects, ranging from his
Green Chile in the Air
mixtape series to full-length albums by various artists.
Green Chile in the Air Vol. 3
is out now and features guest spots by HBO Def Jam Poet/playwright Idris Goodwin, prolific underground hip-hop legend Moka Only, Albuquerque Poet Laureate Hakim Bellamy, Bianca Mikahn, Kayohes, Jungle One and many more. Peep the video for "Unfamous Mindframe" http://www.youtube.com/watch?v=a2V8x0OWuOY&sns=em which features DJ Daze Uno.
Let's start from the beginning. How did you first get into production?
My parents played a lot of music around the house when I was a kid so I soaked up a lot of that, but never actually grew up playing music in any way. I was really into hip-hop ever since I can remember though and listened to it constantly being exposed at a young age (4-5) to stuff like Too Short, NWA, Luke Skywalker, Ghetto Boys, Slick Rick, etc. It wasn't until I was in high school when I started messing around with making music using a karaoke boom box that I used to dub instrumentals onto cassette tape, and then have friends rap over them. That was the first time I started dabbling in any kind of production or recording (as raw and old school as it was even at that time). But what really inspired me most was my younger cousin Lee Diles. He was 15 in 2002 and I was 17 at the time when I first heard the music he was making in his garage with friends. I was blown away by what he was doing and that really propelled me into creating and making beats and working with artists. 
Who were some of your favorite artists growing up as a kid?
Too Short was my all time favorites growing up, but of course stuff like Wu-Tang, Nas, Outkast, Pharcyde, Tribe Called Quest, De La Soul, Busta Rhymes, Mos Def, Biggie, and Tupac. Then of course artists such as Bob Marley, Nirvana, Red Hot Chili Peppers, and later all that good underground hip-hop like Living Legends, Hiero and Rhymesayers influenced me, as well.
How did you first get introduced to people in the Albuquerque music scene?
I started making music with local poet and long time business partner/collaborator Carlos Contreras, and through him I met a lot of folks in the arts scenes and eventually I just networked and made friends with folks like you do out here. Albuquerque is small [laughs].  Carlos and I did several spoken word projects and some community collaborations and youth fund raising efforts. Through him I met Hakim Bellamy and now the three of us operate as a group called Urban Verbs where we still do a lot of work with youth in beat making and writing and recording workshops and also perform and do various art endeavors as well as host a weekly variety show called "unTapped" on Saturday nights at Art bar in downtown Albuquerque.
What makes the hip-hop scene there different from other places in the country?
There isn't really a lot of "shine" here if you will. The southwest has never really had much recognition in music or much else for that matter. until Breaking Bad's huge success, a lot of people in this country didn't even know we (NM) are part of the United States, a lot still don't. So you end up having a lot of hungry and talented artists who really do this in an authentic way. Because of the way things are, people put in work, and there is a lot of talent and competition (some friendly and some not). But it's like that saying," iron sharpens iron", and the there is a lot of sharp iron out here. 
Do you feel it's getting the recognition it deserves? Why or why not?
No not at all. Though cats like Wake Self, Def-I, and DJ Young Native are doing a great job of getting out on tour and representing our scene and state, but there are a lot of different styles here. So we really have a lot to offer with a lot of talented folks holding it down, but not much of an outlet for it. 
How did this mixtape series start?
Obviously, we love our green chile out here and basically eat it with everything. Ever year in the fall, there are stands all over the city roasting the freshly harvested green chiles. The smell is amazing and like nothing else in the world. So the idea came to me to start an annual album that coincided with "chile season." It was originally going to be just instrumentals and Vol. 1was. But last year, I decided to get vocal guests and featured artists from around the region and country. This year I worked towards an even wider spread and it ended up featuring artists from around the country and world. I'm going to try and do at least 10 editions and then someday do a greatest hits or something.
What's your songwriting process like?
I'm pretty dedicated to creating. It's like mediation for me and I do it as much as I possibly can. I still dig and manipulate wax, but also create from scratch a lot also. I usually make my best beats really really late at night or really early in the morning. I try to stay up all night on Saturday nights and usually Sunday mornings pull out some good stuff from the session. It really doesn't take much for me to get inspired.
What are some of your favorite pieces of equipment/tools of the trade?
MPC 1000 and Roland Fantom X6 with Logic Studio 8 pretty much exclusively. But I run a studio also, so of course drums, Rhodes, Hammond m2, and a ton of talented musician friends who lay stuff down from time to time. Also, my latest set up includes the Boss RC 505 and an iPad with a bunch of synths and music apps loaded into it. The iMpc app on iPad is really fresh. 
What are you hoping emerges from this album?
I'm hoping to gain attention from more national acts and hopefully collaborate with more cats I used to look up to back in the day. Also, I hope it inspires young beat makers and MCs to create music and collaborate with folks. 
What does the music you make mean on a personal level?
Music is everything to me. I am addicted to it. But I feel like my music is truly just an extension of my soul and spirit and has empowered me to become a happy person. Without this form of expression, I would be hella lost for real. I feel extremely fortunate to have found something I truly love and the opportunities it has created for me and the people I have met will have lasting impressions on me for many life times. I am also proud of the fact that my music has brought a lot of different people together and allowed me to be a part of my community that way. I will make music no matter what because I truly love doing it.  Please visit http://visceralview.com/blog/ and https://visceralview.bandcamp.com/album/greenchileintheair3 for more information on Diles. By Kyle Eustice for RAPstation.com