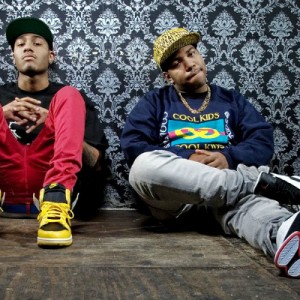 After initially saying they would "never" get back together, The Cool Kids officially reunited in July to the delight of their dedicated fans. The Chicago-based duo—Chuck Inglish and Sir Michael Rocks—have immediately gotten back to work and have already shared two fresh singles, "Running Man" and "Connect Four," a sneak peek at what's to come on their forthcoming album. Titled Super Edition Grand Master Deluxe, the highly anticipated project will presumably featured deep, hard-hitting beats and the duo's cleverly written rhyme schemes. In Part I of the RAPstation interview, Inglish and Mikey discuss the nature of blogs and why the "Wild Wild West" of the music industry has ended. 
RAPstation (Kyle Eustice) How old are you guys now? 
Chuck Inglish: I'm 32 and one of the only rappers that doesn't lie about his age [laughs]. 
Sir Michael Rock: I'm 28. 
Chuck: When we say our ages, people are surprised at people who are 37 walking around like they're 29. 
I come from the era of mixtapes, CDs, albums. People don't listen to music the way they used to. They'll hear 30 seconds of a song and give an opinion—not really sit with it.
Chuck: They will listen for 10 seconds and say it's classic or trash. They have no concept of the album cuts or skits. Artists are working their asses off to make music that affects the world and they're just getting bastardized listeners. 
I have to listen to an album at least six times before I will give an opinion or write a review. 
Chuck: You used to send out albums three months ahead of time before they did a review, now you have certain people online that give one-listen album reviews. It's like how? 
If I reviewed De La Soul based on one listen, I would have come to an entirely different conclusion that what I ended up with. But after a few listens, it really grew on me.
Chuck: That's like the Tribe album. On first listen, Tribe album is abrasive in certain spots and it's like, 'What's this?' Now it's like ok, this shit is tight.' That's how I listen to music. One of my favorite records is D.R.A.M.'s. If you were to gauge what shit was hot off social media or anything other than, 'Yo, have you heard that? 'Cuz in person everyone says that's tight, but no one is talking about it online. That's what's driving traffic though. 
Mikey: I think I know what happened. When rap really started, alright—it was the Wild Wild West. Nobody knew what the fuck was going on. If you watch The Get Down and shit like that, you see how it was. Then the industry got a chance to figure out how to monetize it, how to structure it and basically how to manipulate it to make it into something they control. So they did that. Then came the '90s and early 2000s, and then it hit a fever pitch where that shit all broke down because no one was buying shit anymore and were stealing everything. The industry lost control again. They just got that control back again and they're planting memes and their strategy teams are planting viral videos that look natural and organic. They're saying artists aren't signed when they are and acting like it's some independent shit. It's going to take something happening again for them to lose control to become that organic experience that happens every so often. But it's like the '90s again. They control this shit so crazy. The Wild Wild West has ended right now. 
Too bad the music isn't as good as it was in the '90s. 
Chuck: That's what the issue is. There are so many good songs—basically because of the internet, we let the mother fuckers in high school we wouldn't even let say shit, we let them control our music. We let control our opinions. It just so happened that me and Mikey carry our ways into grown up life. I remember being when were first start crackin', certain artists would be like, 'Are you coming to the BET awards?' We'd be like, 'Hell no, whatchu talking about?' There were certain group events where the industry exists and us trying to be so cool, we were really alienating from the mother fuckers we were making fun of in high school. They're like, 'Oh you're too cool now?' [We want to] keep them out of it and control it all day. Like why are you in control of anything? Why are you the curator of anything? Why are you the director of anything, dawg? You're a fucking cornball bro. To each their own, but you are corny.