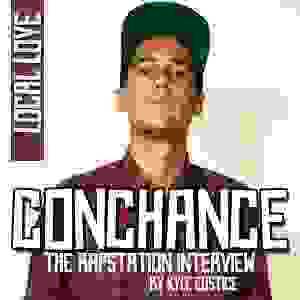 Local Love Omaha's Conchance on the Brain By Kyle Eustice Omaha's hip-hop scene got a face-lift recently when Brenton Gomez, better known as Conchance, decided to grab a hold of the mic. The 26-year-old Omaha native first started rhyming with fellow emcee Black Johnny Quest, producers/DJs Kethro and Dojorock in the group Midtown Marauders. Since then he's veered off into solo territory where he's just beginning to gather steam. He dropped his debut full-length,
Calm Kids
, last year and is on track to release another in 2014. As a recipient of two Omaha Entertainment Awards (which is Omaha's equivalent of the Grammy's), Conchance is on his way to significant notoriety in not only his local area, but nationally, as well. In fact, he's nominated again this year for yet another Omaha Entertainment Award. His new track, "Half $tepper King$" is just a taste of what's to come. With Make Believe Studios as his home base, Conchance bridges the gap between hip-hop and Omaha's indie rock fans. Please check out https://soundcloud.com/conchance for more.
RAPstation: First thing's first. What attracted you to hip-hop in the first place?
Words. The way someone dictates words can make you happy, sad, angry, confused, inspired, and impressed. The placement, the topic, and the voice that delivers them bring the words to life. The second attraction is thanks to my uncle, who has been a jazz musician all my life. A good beat has always had to compliment the words that make the songs and albums I enjoy. Growing up with quality jazz music as a standard I began to grasp the quality of rap/hip hop that I loved and love to this day.
When did you realize you had a penchant for writing lyrics and rhyming?
I started writing a very young age. I used to write poetry and random thoughts during times that weren't so good growing up and it helped me get the feelings and perspective I needed out of my head. Never thought it was any good until my homie's mom found a poem of mine in like 6th grade and told me I should submit it for some type of publishing. I never did. As I got older I would write but then I began trying to freestyle with my boy Klassic. We were sooooo terrible at first. As time went on we began to figure out how our darts should be thrown. I would say we put in a lot of work to be able to call ourselves emcees growing up.
Do you remember the first song you wrote? If so, what was it called and what was it about? Were you nervous about sharing it?
The first song I did was about a girl I fell in love with in 4th grade. The chick left then entered my life again in senior year of high school. Then, she left my life again and came back a year later after that. Always loved her and still do. I was hyped on the piece that i did for her. I wanted everybody to hear it. I still think it's alright. I wonder if she still plays it.
Who gave you the confidence to pursue this as a career?
I would say my homies gave me confidence to pursue music as a passion. My mom and sister have always been big supporters of my art and my demeanor in life, as well. I also notice growth in self, which affects the content, too. If the content is better in regards to my judgment, it makes me want to keep making more music with hope that people would gain something from it. I push myself to be better and sometime that has to do with confidence, but mostly it has to do with just making better art then the piece before.
I heard Calm Kids took quite a while to finish. Why?
Calm Kids was my first full length. I think if I had the money to do so it would have been out an entire year before it was eventually dropped. There are many reasons why it took so long. I have learned a lot since
Calm Kids
and I have also grown a lot, as well; from the way I want records to be recorded and pieced together to how they should be packaged and released. Times are changing, but I will forever keep my integrity to the way I believe I want my art to be presented and released.
What is it like working with the folks at Make Believe?
Thus far, it has been like working with family. They are family. The whole Make Believe family is a big part of my life. They allow me to be able to record the projects and pieces that I want to record with no judgment. I trust them creatively and I am a firm believer that they have the same trust in me. It really has been a blessing getting involved with Make Believe. I don't have to record in a closet or a living room anymore (which I still do at times). I now have a place I can go test deliveries and get a consistent sound. Shout out to all the homies there at Make Believe!
Thanks to the internet, there seems to be a revolving door of independent rappers these days. What makes you different?
Thanks to technology anyone can call themselves an artist. Anyone can record a song, get it mixed, send it for mastering and say they have an album. This actually has been happening for sometime. What will always hold truth is the quality and essence derived from these projects. Good music vs. bad garbage ass music. You can go Gold or Platinum 5 albums straight and that still won't mean that you're a better artist than Rakim, Ghostface, or Raekwon. I give no fucks. I am going to make music and hopefully show and prove that I have something to say in a manner that's worth listening to.
How you ever worried that you'll drown in the abyss that is the music industry these days?
I have no care about drowning in the abyss of the music industry. All I care about is making projects with creative integrity to self, the world, and my mother. I am daily making music to add to my portfolio of my time on this earth. I am not a hype machine unit, packaged for Target or Urban Outfitters. I am a man who rides the bus, reads books, loves to skateboard, has manners, knows crime, and who some people say can rap well. We will see where all of these attributes can take me in 2014.
Tell me about this new video you're about to release. Who came up with the concept?
The song is called "What's Goode?" it's the first track off the Calm Kids LP. The song is a tribute to my homie Mark Goode who now lives in Torrance, CA. The track all in all is a reply to the question, "What's good?" I just give my answer through a couple verses that explained my living situation and feelings about what was going on around me at the time. My boy Sam Martin and I made the video of showcasing some people who live or whom operate in Midtown, Omaha. Also it is to showcase the streets and activities that my life revolves around. The video is simple, sweet, and honest.
What's next for Conchance? Does Omaha have a hip-hop scene in your opinion? Do you want to branch out and get as big as possible or would you rather remain low key?
Look out for M34N STR33T, that is my side project composed of my boy Haunted Gauntlet, DJ Really Real, and myself. We have a 19 song album already mastered that's about to get dropped with 8-bit video game. The M34N STR33T project should be out by February. I have another project that's being recorded right now that I constructed with my homie Sm-Grimms in Mexico this past September. My boy was deported a few years back so I went down to Mexico to make a record and it actually turned into something very special for both of us. Definitely hyped on both of these projects and the content they hold. I am looking forward to both these projects because they definitely show growth from the Calm Kids LP. I KNOW Omaha has a hip-hop scene it's just a little dysfunctional and disorganized right now. I believe there has been a lack of standard for hip-hop everywhere, which allows a lot of half stepping to get passed off as art, which is bullshit. Times are changing and I know people who are in the works as we speak trying to perfect projects to better Omaha and themselves. Personally, I would love to branch out and work with artists all over the world. It would also be beautiful to tour as much of this Earth as I can with the music I make. I just want people to hear and have my music. I don't need to get BIG or remain low key. I would love for my music to reach a large-scale platform where people from all over the world could just hear it. After a fair listen people can make of me as they wish. 2014, I am not fucking around. All art, no bullshit, and a lot of it.