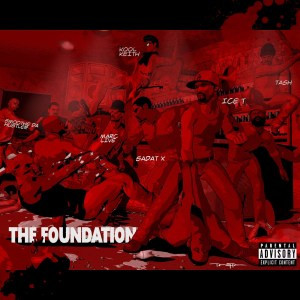 The Foundation compilation is available now and it's a must-have for the collection. 
Two singles and videos have already dropped from the project, the first by Tash from Tha Alkaholiks featuring Cali Boi and the brand new DJ Ace-produced single Feds In My Rearview by Ice T which features the OG laser focused.
Additional artists on the album include Sadat X, Kool Keith, Smoothe Da Hustler, Trigger Tha Gambler, 40XL, G. Malone, King Tee, Breeze, Esham, J.O and Ultramagnetic MC's.
SUPPORT: https://orcd.co/thefoundation
Official tracklist:
1. Kool Keith - Metaphor Kingpin
2. Ice T - Feds In My Rearview
3. Smoothe Da Hustler & Trigger Tha Gambler - On Site
4. Sadat X - His Man Saw It
5. Tash feat. Cali Boi - Splash
6. 40XL - Lit
7. Ice T, G. Malone, King Tee & Breeze - Red or Blue
8. Raw Breed - Body Bag Music
9. Esham - Ack
10. Ultramagnetic MC's - Who Am I
11. J.O - Mil Millones