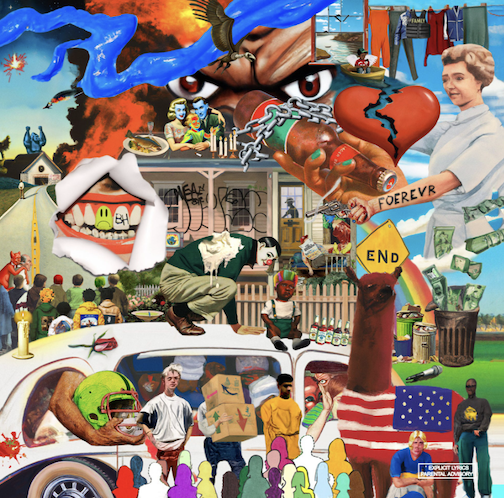 The BROCKHAMPTON collective—comprised of Merlyn Wood, Kevin Abstract, Joba, Matt Champion, Dom McLennon, and Romil Hemnani, among others—exploded on the scene with 2017's "Saturation" and "Saturation II," garnering critical acclaim along the way. Four more albums would follow, including 2021's "Roadrunner: New Light, New Machine," which was mostly recorded at Rick Rubin's studio in Malibu. 
Earlier this year, they confirmed they were going on hiatus but promised to leave their fans with at least one new project. On Thursday (November 17), BROCKHAMPTON returned with a new album called "The Family" via Question Everything/RCA Records. 
Curiously, their seventh studio album is primarily a Kevin Abstract solo release produced by Bearface and boylife, but it will be followed by another full-length, "TM." Described as a "parting gift for fans," it was executive produced by Matt Champion and consists of material they worked on over two weeks in Ojai, California in 2021. 

"I understand that some of the fans are upset that no one is on the album but me," Abstract said in a statement. "Over the past few years, the members of the band began to move our separate ways, and focus on our individual careers and passions. "With this project, a few of us were inspired to make something new that would bring closure to the past, and set the table for all of us to finally be able to explore our individual futures. I hope you understand and enjoy the music."
He continued, "I feel like whoever is reading this - whoever has been with BROCKHAMPTON since the beginning deserves some sort of closure. The album is an attempt at that. Thanks for giving us a chance. For holding me up. Holding me down. For being everything I needed when I was just some n-gga from Texas. I still am. Yeah, this show is over, but the furnace is still glowing. What a blessing this has been."