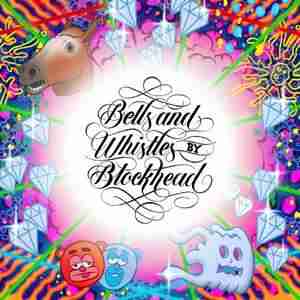 New York based hip-hop producer Blockhead aka Tony Simon has been active since 1999 and is well known for his celebrated work with Aesop Rock and solo releases on Ninja Tune. On November 18th, 2014 he will self-release his sixth studio album,
Bells and Whistles
. The album continues his proven techniques of exquisite beat making with methodically arranged samples, all the while being fluid and experimenting with new tempos and genre flavors. The offerings on
Bells and Whistles
lay somewhere between a 70's horror movie soundtrack ("Sacrificial Santa") and what you might hear in a Turkish café ("Kaput!"), with boom bap roots front and center ("Desirebulation"). Shuffling rhythms play off of often ominous and emotionally nostalgic samples. Composed using not much more then Ableton and an ASR-10 sampler, the album showcases Blockhead's staunch commitment to instrumental beat making in its purest of forms. At its core is an adept use of simplicity over flash, making a powerful statement about raw skill and finesse still being king. "I strive to make music that will hopefully stand the test of time. Whether that happens remains to be seen but I feel as though simplicity is underrated sometimes. And simplicity never goes out of style." Simon states.
Bells And Whistles
is an elaborate mosaic of what has, and continues to make Blockhead a visionary artist and respected originator of style.
Bells and Whistles
will be released November 18th 2014 via digital retailers and Bandcamp, with vinyl records to follow in early 2015. Tracklist: 1. Kaput! 2. On The Back Of A Golden Dolphin 3. You'll Get Over It 4. Beach Blanket Blood Bath 5. The Everything Song 6. Hallways 7. Planes And Trains 8. Sacrificial Santa 9. The Fakest Story Ever Told 10. Fire Is Warm 11. Desirebulation 12. FTW