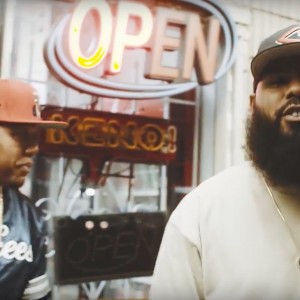 2016 saw one of Hip-hop's most anticipated team-ups come to pass when Apollo Brown and Skyzoo released their joint album, The Easy Truth.
Smithing together Detroit's finest steel beets with Brooklyn's hard-hitting grit, the album landed multiple accolades, including a spot on Billboard's Top 200 and debuting on the iTunes Hip-Hop/Rap Chart, not to mention garnering acclaim as one of 2016's most cohesive records to date.
And the momentum indicates no stopping as Brown and Skyzoo just released the visuals to their track off their latest album, "Payout", released by Mello Music Group and features MMG emcee, Stalley.
Premiering via Rap Radar, the Christopher Stokes directed video showcases warm-filtered shots of Skyzoo rapping alongside Stalley. From derelict structures to graveyard hours liquor stores, the ambiance creates the perfect backdrop for this minimal, mellow track with such an almost melancholy hook, "It's like I am being pulled down/ Funny how I keep my head up/ It was slow dough then it sped up."
Check out Apollo Brown & Skyzoo's latest MV to their hit-single, "Payout", featuring Stalley.
By Jods Arboleda for RAPStation.com