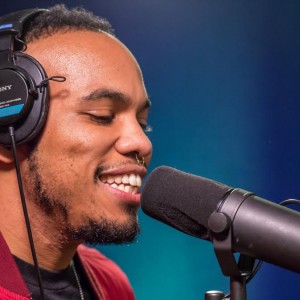 Anderson .Paak just wrapped a phenomenal year, and currently stands among other notable artists nominated for the Grammy's Best New Artist.
Kicking off 2017, the Oxnard native joined Pharrell and Scott Vener on Apple Music's OTHERtone Beats 1 Show, discussing about working with Dr. Dre as well as future collaborations. While Pharrell suggested a collaboration with Q-Tip, Paak countered with an interesting response:
"We got records, me and Tip," says Paak, following-up by revealing that he and the A Tribe Called Quest frontman had already been working together. Paak also unveiled that although the content still bears no set release date, one particular tune ended up on ATCQ's latest album on the track "Moving Backwards".
He continues, "We got some joints man. We be on the wave for sure when we go over there," in regard to working with Q-Tip. "I got a couple with [DJ] Quik too," Paak teased.
Anderson .Paak first gained recognition working with West Coast legend, Dr. Dre on his 2015 album, Compton, and later signing under his label, Aftermath Entertainment. In 2016, Paak released two breakout albums, Malibu, as well as Yes Lawd under the NxWorries moniker with Knxwledge.
By Jods Arboleda for RAPStation.com