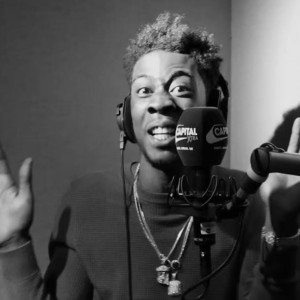 Desiigner is only a few weeks away from wrapping up a phenomenal year, and that includes striking gold on his "Timmy Turner" single, as well as a Grammy Award nomination for his breakout-hit, "Panda".
Marking one year since it's initial release in just two days, "Panda" singlehandedly skyrocketed the nineteen-year-old Brooklyn emcee onto instant fame, landing him #1 on the US Billboard 100 as well as garnering RIAA certified quadruple-platinum.
On top of that, Def Jam Recordings announced yesterday (Dec 12) that said single was nominated for a Grammy Award, competing under the Best Rap Performance category, competing against heavyweight starts such as Fat Joe & Remy Ma, ScHoolboy Q and Kanye West, OVO boss Drake, and fellow young artist, Chance The Rapper—who by the way has also been celebrating a stellar year of his own.
While fans and critics alike trade off bouts of criticism, pinpointing the young emcee's stark resemblance to that of veteran rapper Future, and somehow earning a nomination before him, Desiigner only expressed thanks and promised more during a short interview with XXL.
"Panda' going No. 1 is a blessing," said the emcee, "I knew it was going to get there, now it's time to put down more music and deliver for the fans, just give them more. I don't make music for the time. I make music for the century so I knew it was going to go."
Nevertheless, 2016 was indeed a breakout year for the young rapper from Brooklyn, and at ony nineteen-years of age, only time can perceive what else he has in store.
By Jods Arboleda for RAPStation.com